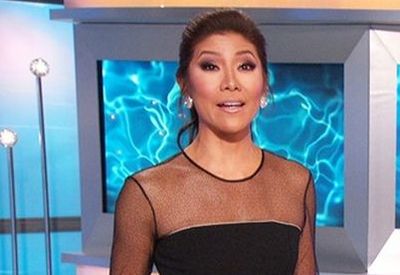 Julie Chen took one for the team when it came to her salary for the first-ever American Celebrity Big Brother season.
The longtime 'Big Brother' host recently told The Hollywood Reporter that her husband (and CBS chief) Leslie Moonves basically strong-armed her into accepting less money to host the new spin-off, which will air this winter on CBS.
"He comes home from dinner and says in a very Godfather, mafioso-style, 'Jules, you tell your lawyer this is not a negotiation. This is what the deal is and you're going to accept it.' And I said, 'Is that the way you speak to your wife?'"
Julie said she eventually agreed to take the pay cut because the 'Celebrity' season will be shorter than a regular 'Big Brother' season.
"He said, 'You tell your attorney this is not a game we're playing. Everyone's taking a haircut,'" Julie told THR. "'This is the only way it will make sense financially. You shouldn't be expected to be paid as if it's a full series. It's a condensed version.'"
(FYI: Her lawyer is her husband's brother.)
Julie, who has hinted in the past that she's counting the days until the 'Big Brother' train wrecks and she can move on with her career, eventually agreed to accept a smaller salary. She did not reveal how much dough she's getting for hosting the new show.
Very few details about the 'Celebrity Big Brother' spin-off have been released. CBS has indicated, though, that it will not interfere with the regular 'Big Brother' series, which will still run as scheduled in the summer.
'CBB' will play out similarly to the regular version, with multiple episodes per week, HoHS, PoVs and evictions.
The network has revealed that the new show will also have a 24/7 unfiltered live feed, like the regular 'Big Brother' series does.
(Photo: CBS)