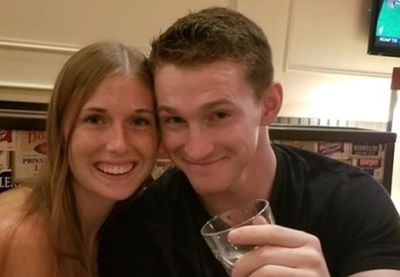 Another Sister Wives kid is about to head down the aisle!
Logan Brown, the oldest child of the Brown Family, announced on Instagram on Friday that he proposed to his longtime girlfriend, Michelle Petty.
"I did a thing…the best thing I have ever done. #engaged," Logan captioned a photo posted to Instagram that showed a pink engagement ring sitting beside the couple.
Logan and Michelle have been together for nearly three years and Michelle has appeared on Logan's family's TLC reality show many times. She shared her happiness on Twitter.
"Promoting his to fiance! #engaged," Michelle captioned a series of cute engagement photos posted on Friday.
Logan told TLC that he proposed to Michelle in Austin, Texas.
"Unfortunately nothing in my elaborate plan had successfully gone through," Logan said. "So in desperation I found the prettiest view of the Colorado River, Congress Bridge. We walked out to the middle of the bridge and then I popped the question!"
Logan, 23, will be the third of Kody Brown's 18 children to get hitched. His sisters Madison and Mykelti both got married last year but Logan and Michelle have stated that they were in no rush to get married, and that they wanted to graduate college before tying the knot. Michelle graduated in 2015, and Logan finished his Bachelors in May 2017, and both are now in graduate school at UNLV.
"We are thrilled!" Logan's mother, Janelle Brown tweeted after the engagement announcement.
"We are so happy that Logan and Michelle are engaged," Kody and Janelle told TLC. "We have become quite attached to Michelle and we are so thrilled that they have taken this next step. We wish them so much joy and look forward to what comes next."
Logan, like all of his adult siblings, has stated that he will not be living polygamy like his parents.
TLC has not announced when new episode of 'Sister Wives' will premiere.
(Photos: Instagram)