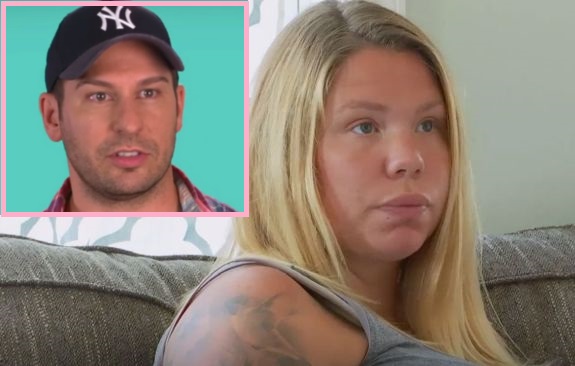 Kail Lowry has been working with Teen Mom 2 producer JC Cueva since 2016, but, for the upcoming ninth season, another producer has been signed to handle Kail & Co. 'Teen Mom 2' fans have been wondering why Kail and JC are no longer working together, especially after Kail wrote on Instagram that "some things happened [with JC] that I wasn't OK with so I needed to start over."
The Ashley can exclusively reveal the reason Kail and JC aren't working together anymore.
The Ashley's sources tell her that "JC had some drama with one of Kail's friends" a while back that made Kail uncomfortable working with him.
"However, things really came to a head at the last ['Teen Mom 2'] Reunion," one source said. "JC knew Kail was ready to confront Briana [DeJesus] on set and one of the higher-up producers told Kail she couldn't fight Briana because it was a liability. But JC made it seem like he was on Kail's side."
As The Ashley previously told you, many crew and cast members knew that Briana was planning to come out on stage and have it out with Kail.
"Kail asked JC, as well as several other producers to place Briana at a different end of the stage when the whole cast came out to film a segment," the source said. "She told them that she knew Briana was going to come out ready to fight. Kail told JC that he should have prevented Briana and her sister [Brittany] from being placed directly behind her."
Once Briana did, indeed, come out screaming and trying to fight Kail, the source said that JC "turned on Kail" and prevented Kail's friend–known on-camera as Bone–from coming out to help Kail.
"Bone was watching on a monitor backstage, and as soon as Bri came out ready to fight, JC was heard saying into his walky-talky to have security hold Bone back," the source added. "Eventually, JC literally used his own body to prevent Bone from coming out on stage. Kail saw that as the ultimate betrayl."
(The incident was all caught on camera and will likely be shown during the 'Teen Mom 2' Reunion episode in the background during the fight scene.)
After Kail found out that JC had purposely prevented her from having Bone come out to back her up with Bri and Brittany, she exploded, according to multiple witnesses backstage.
"[Kail] got right up in JC's face and told him he was fired, in front of a bunch of other cast and crew members" one source said. "She told him she didn't like him, and that he was no longer welcome in her home. She said he got her all hyped up and then basically took Briana's side and helped her and Britt come after Kail. She felt that JC set her up, and that's what she told him on-set after the on-stage fight went down."
The Ashley hears that the higher-ups were also very unhappy that JC got involved in the drama. He has since been assigned to work with new Teen Mom OG star Cheyenne Floyd. (At one point, he was the producer working with now-fired 'Teen Mom' Farrah Abraham but he was replaced on her story as well.)
"Kail wanted nothing to do with JC after this final incident and told Larry to get her a different producer," the first source said. "This was after [Kail's ex] Jo [Rivera] had a previous issue with him, so [the executive producers] decided it was best that JC not work with Kail or her secondary cast anymore."
RELATED STORY: Briana DeJesus Had a "Complete Meltdown" On Stage After 'Teen Mom 2' Reunion Fight: "She Was Screaming & Throwing Stuff!"
(Photos: MTV, Instagram)