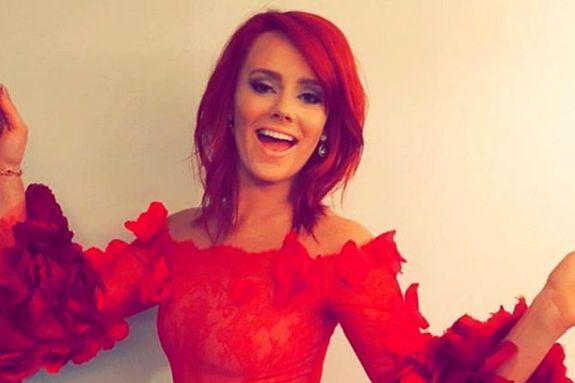 Kathryn Dennis came out of this season of Southern Charm smelling like roses and now she might be off to hand some out!
The mother of two hinted at the possibility of becoming the next Bachelorette this week when a fan suggested the idea on Twitter.
"Actually I'm kind of in talks about it," Kathryn responded to the tweet.
Actually I'm kind of in talks about it ? https://t.co/reqNXbjzIH

— Kathryn C. Dennis (@KathrynDennis) August 2, 2018
She later wrote, "Maybeeee," to a fan who begged her to become the show's next star.
Neither Bravo nor ABC has commented on the matter, though, according to People.
Coincidentally, 'Southern Charm' fans watched this season as Kathryn interacted with a different sort of rose, as in Shep Rose, her co-star on the Bravo show. The two longtime pals seemed to grow closer as friends this season, with Kathryn even helping to nurse Shep back to health post knee surgery. It was also revealed the two had hooked up a few times, and Shep spoke highly of Kathryn during the recent 'Southern Charm' reunion.
However, despite the co-stars' undeniable chemistry, the two remain just friends… which leaves the door open for Kathryn to become the next 'Bachelorette.'
Kathryn, who just turned 27, is in the same age group as all of the most-recent 'Bachelorettes.' (The current 'Bachelorette,' Becca Kufrin, began filming her season at the age of 27.) However, only one former 'Bachelorette'—Emily Maynard—was a mother before filming her season. Kathryn, who has two kids with ex Thomas Ravenel, would be the first 'Bachelorette' with two kids.
While Kathryn may be "in talks" to become the ABC reality show's next star, she seems like an unlikely choice, given that the 'Bachelorette' has been always been someone who has previously appeared on 'The Bachelor.' Kathryn has never appeared on a 'Bachelor' show.
Even though Kathryn's chances of actually scoring the coveted 'Bachelorette' role are slim, we can't rule out the possibility that Kathryn may be considering doing a show like 'The Bachelorette.'
Given the amount of growth fans have seen in Kathryn over the last few years, we think Bravo should take this opportunity to greenlight another 'Southern Charm' spinoff such as Shep's dating spin-off show RelationShep, which aired earlier this year.
'Kathryn It For Love' has a nice ring to it, right?
(Photos: Snapchat, Instagram, Twitter)