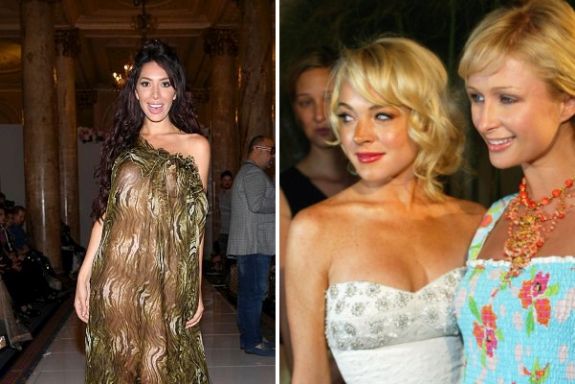 Paris Hilton and Lindsay Lohan have each been given the opportunity of a lifetime!
The Blast reports that former early-2000s "It Girls" were each offered the chance to box Farrah Abraham— and get $250,000 for doing it!
According to the site, Damon Feldman, the promoter of Farrah's upcoming Atlantic City boxing match, is eyeing Paris or Lindsay to be Farrah's opponent in her "anti-bullying" fight.
According to Damon, "his investors have agreed to pay either Paris or Lindsay $250,000 for three, 2-minute round matches with the former 'Teen Mom,'" The Blast reports. "We're told on top of the payment to the star, Feldman's investors also have an extra $100,000 locked up for a charity of their choice, if they choose to participate."
Even though Lindsay has a new reality show coming to MTV this summer that she probably wants to promote, it seems unlikely that she would be willing to box a 'Teen Mom' star for cash. Paris is also an unlikely candidate, being that she's getting married soon…and she doesn't need the cash.
As The Ashley previously reported, Farrah has been training for her boxing match for the last few weeks. She has stated that she only wants to fight someone who is as "against bullying as she is."
If Paris and Lindsey both turn the offer down, 16 and Pregnant star Lindsey Nicholson has said she's ready and willing to fight the Backdoor Teen Mom. Lindsey, a former cage fighter, called out Farrah on Instagram last week for being a bully herself.
"Really Farrah, you think you're not a bully?" Lindsey captioned a photo posted with her own photo inserted into Farrah's boxing match poster. "Have you watched any of your episodes? You bully your mom, dad, producers, cast members, & anyone you think is less than you. Why don't you get in the ring with me & try to bully me around and see how that goes."
Lindsey tells The Ashley that Farrah has since blocked her on social media.
Teen Mom 2 star Kail Lowry also volunteered to go into the ring with Farrah, but Farrah stated that she would not fight Kail, since she feels Kail is a bully.
Other "celebs" who have reportedly been offered the chance to whack Farrah include Chanel West Coast and Teyana Taylor. (Neither has accepted the offer, though.) The Blast stated that Blac Chyna was also offered the fight, but she turned it down.
The site reports that Farrah's opponent–whoever she may be–will be confirmed by next week! The fight is set to take place Saturday, November 10 at the Showboat hotel in Atlantic City.
RELATED STORY: Former 'Teen Mom' Farrah Abraham is Charging Bell County Comic Con Attendees $10 to Shake Her Hand
(Photos: Emma McIntyre/Getty Images; Michael Buckner/Getty Images; Instagram)