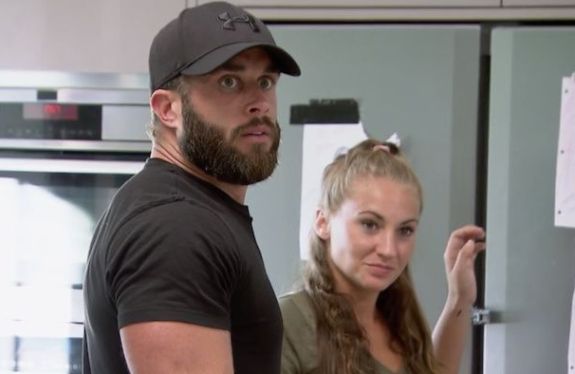 Another MTV romance "showmance" has ended!
The Challenge stars Britni Thornton and Brad Fiorenza have confirmed that they are no longer in a relationship. Brad confirmed the split to Us Weekly, which Britni discussed the breakup on Sunday during an interview with the Challenge Mania podcast.
"We've recently came to an agreement that it would be best to focus on our own personal lives," Britni said on the podcast, before hinting that Brad's ex-wife Tori Hall may have caused strain in their relationship.
"He still has so many loose ends with his ex wife, as in, getting back on his feet," she said. "He just bought a house. He needs to focus on him right now and I obviously need to focus on myself and get my s**t back together. We both need to honestly love ourselves a little bit more before we can try to even give more to each other."
Brad told Us that the breakup happened earlier this week.
Brad and Britni met on 'The Challenge: Vendettas,' which was filmed during the fall of 2017. The couple bonded (despite their 10-year age difference) and continued to date into the filming of 'The Challenge: Final Reckoning,' which is currently airing.
Their relationship has survived several "hiccups" along the way, including Britni's recent DUI arrest, social media drama with Tori, and an incident that was shown on last week's 'Challenge' episode in which Paulie Calafiore lied to Brad and told him that Britni had slept with her ex, Chuck Mowery.
The drama with Chuck did, in fact, contribute to the split, according to Brad.
"What I had viewed in the last two episodes had made me uncomfortable but it's not the sole reason for our breakup," Brad told Us Weekly. "Brit and I have made a lot of great memories & still have an incredible connection of energy to this day. I really look at it as a timing issue. I was ready to move on, I don't think she was. I'll take some of the blame for that."
During recent episodes of 'The Challenge,' other cast members expressed that they felt Britni still had feelings for Chuck. Although Britni denied that she did, Brad said that watching the episodes was hard for him.
"I knew going into the house, there was issues with her not having closure with that relationship. We had spoke about that. I think it was harder on her than either one of us were expecting," Brad said. "I can't speak on her feelings for him but I can say that I saw some activity that made me uncomfortable."
In addition to "The Chuck Situation," the distance between Britni and Brad also contributed to their split. (Brad lives in Chicago, while Britni resides in Georgia.)
"It's a timing issue and long distance is hard," Brad said. "You don't get to see somebody at the end of the day and be with them and work through issues. That was a stresser. We still have a great connection, we're just not together right now. I'd be open to reevaluating the situation down the road."
Even if Brad and Britni don't get back together, there's still a bright side to their breakup: they now have a partner for the next "Exes" season!
RELATED STORY: Tori Halls Reveals More About Her Divorce From Brad Fiorenza: "It Was Horrific" 
(Photos: MTV, Instagram)