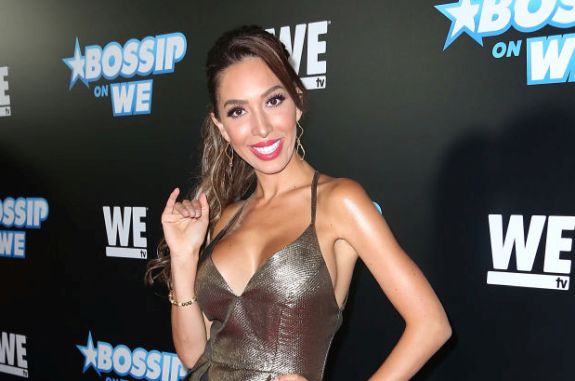 You can touch the hand of Farrah Abraham…but it's going to cost you a 10 spot!
The former Teen Mom OG star is appearing at the Bell County Comic Con in Texas this weekend (for some reason), meeting and greeting fans at a booth where she is selling cast-off stuffed animals from her shuttered Froco yogurt shop, autographs, pictures and more. However, fans who only want to shake the hand or hug the Backdoor Teen Mom will still have to shell out some cash!
Farrah's booth features a price list, letting her "fans" know how that they will have to pay $10 just to hug her or shake her hand. Bargain bin shoppers will be allowed to "chit chat" with Farrah…for only $5.
No, seriously…
For the big spenders, Farrah will sign her name for you…for $40. For the same price, you can purchase a non-autographed photo of the fired 'Teen Mom' star. If you want your Farrah photo signed, however, you'll have to shell out $70. For $80, Farrah will star in a personal video message for you and your trainwreck-TV-loving pals.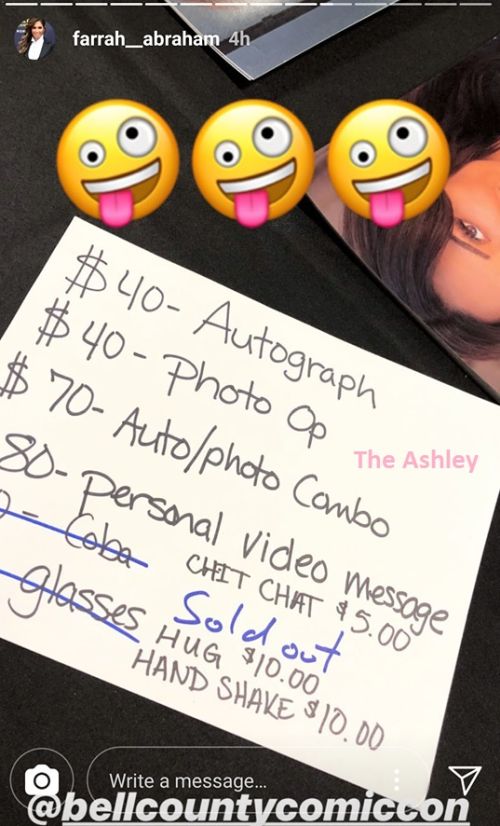 Farrah's daughter, Sophia, and father Michael were seen in Farrah's booth at the convention, helping to hawk items and "experiences" with Farrah. (Sadly, Farrah's line of plastic butt sex toys were not on sale at the convention.)
Judging from the comments left on social media by Comic Con attendees, Farrah's price list was not going over well.
"We go to several cons a year and I have never seen anyone charge for a hug, handshake, or to freaking chit chat!," one person wrote on Twitter. "And I've met people from Ron Perlman to Norman Reedus to Chazz Palminteri! Farrah Abraham is gross and desperate!"
"Selling hugs…desperate much!?" another person wrote. "Who does that?!"
Farrah somehow managed to get a place at the expo, which features celebrity guests from the comic, pop culture, sports, movies and gaming worlds. Actual celebs appearing at the event include actor Danny Trejo and former baseball star Jose Conseco. While Farrah had no problem charging people $5 to talk to her, other celebrities were mingling with fans and even giving them things…for FREE!
Special thanks to @JoseCanseco, I just wanted to shake your hand. You were THE Bash Bro when I was a kid. And to just get to meet you and shake your hand was enough. The fact you allowed my son to select a pic and signed it at no charge. Just awesome! #BellCountyComicCon pic.twitter.com/JRyCxQLnF8

— Roland W (@RJDUB81) August 5, 2018
(Photos: Maury Phillips/Getty Images, Instagram, Twitter)