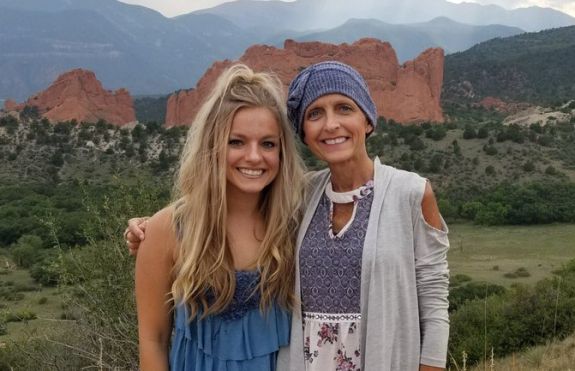 Angie Douthit plans to put the profits from her upcoming book to good use.
Angie, who is the mother of Teen Mom 3 star Mackenzie McKee, is documenting her cancer battle in an upcoming book. The Blast reports that she will use the majority of the profits from the book, which will be titled God's Plan, to help pay off the medical bills incurred from her cancer diagnosis.
As The Ashley previously reported, Angie has been battling Stage 4 brain and lung cancer since January and, despite undergoing radiation and chemotherapy, she received the news in May that the cancer had also spread to her bones.
In God's Plan, Angie will tell the story of her life-altering diagnosis, as well as the treatment she has undergone to fight the cancer. It appears that the cost of that treatment plan has hit the Douthit family hard, leaving them with large medical bills to pay.
Earlier this summer, Mackenzie shared a photo of her mom on social media to celebrate the news that Angie had scored a publishing deal for her book.
"My family means everything to me," Mackenzie wrote on Instagram. "We've got so many stories to tell. I'm super excited that my mom @angiedouthit is sharing her fight against cancer to inspire others to never give up. She just officially signed a publishing deal with 13th & Joan Publishing House to write her story of fighting cancer. I can't wait for her to inspire the world!"
Mackenzie often shares updates on Angie's fight on social media. On Saturday, Mackenzie posted a photo of her mother with a caption that explained how incredible Angie is.
"A woman who was told she had 4-12 months left due to 2 types of stage four lung cancer this year… what is she doing? She is in Colorado at a speaking engagement to share God's love and working out at 6:00 am… just out here living her best life ???‍♀️. Nothing is stopping her," Mackenzie wrote.
Angie gives followers a look into her journey through her own Instagram as well, frequently posting snapshots from her speaking events, family photos and outings accompanied by encouraging quotes and Bible verses.
As the book's title may suggest, one of the main reasons Angie said she wanted to tell her story was to share her love of God with readers.
God's Plan was co-written with celebrity ghostwriter Ardre Orie of 13th & Joan and is described by the publisher as "the moving account of one woman's heroic journey to love harder, discover divine purpose and inspire the masses."
This will be the second book Angie has authored. In 2010, she wrote Life With Mike, an autobiographical account of her and her family taking in a man with Down syndrome and caring for him until his death.
Angie will also be the subject of an upcoming 'Teen Mom' special. MTV began filming Mackenzie's family in February, right after Angie was diagnosed. While the special was supposed to air in the spring of 2018, its premiere date got pushed back and the footage continues to be updated.
God's Plan will be released September 11 and is currently available for presale online here.
(Photos: Twitter, Instagram)