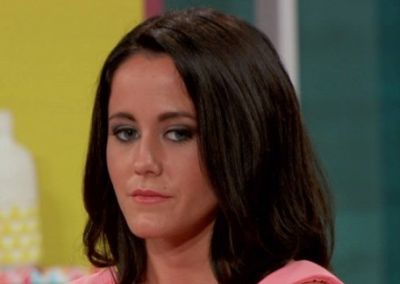 Teen Mom 2 fans have been speculating for weeks that Jenelle Evans is pregnant. The Ashley has reached out to her 'Teen Mom 2' sources on the subject, and all of them are stating that Jenelle is, indeed, pregnant with her third child.
Fans first started suspecting that Jenelle was "with child" around the time of the Season 7 reunion taping. One audience member told The Ashley that Jenelle looked heavier in the midsection during the filming. In photos posted from the reunion taping, Jenelle did, indeed, look fuller in the middle than usual.
According to one crew member present that day, there was a lot of talk on-set of Jenelle being pregnant. The crew member said that the show's producers "are freaking out" about Jenelle being pregnant again.
(Also– for the fans that continue to believe that the girls are given some sort of "pregnancy bonus" for having more kids, The Ashley can tell you this is totally false. It's been floating around for years, and all of The Ashley's sources have told her that it's simply not true.)
Update: Jenelle continues to adamantly deny that she is pregnant. MTV has yet to confirm the pregnancy, and we may have to wait a while for that to happen. (For the record, though, if The Ashley is ever wrong, she will always retract the story.)
However, all of The Ashley's show sources are telling her that Jenelle is pregnant.
In the meantime, though… let's look at the facts:
A photo that surfaced on Friday seems to show Jenelle with a full-on baby bump. (You can check out the photo here.) The photo was taken by a fan on Friday who spotted Jenelle and David at the Target store in Wilmington, North Carolina.
This is not the first time Jenelle has denied a pregnancy rumor. When she was pregnant with her son Kaiser in 2013, she continued to deny she was pregnant up until the day before MTV confirmed the pregnancy.
The Ashley has no additional details (i.e. how far along Jenelle is in her pregnancy, etc.) but she can confirm that the show's producers are not happy about it. As far as the other rumor floating around that Jenelle is engaged, The Ashley does not have confirmation one way or another on that.
Jenelle's manager, Johnny Donovan, also denies that Jenelle is pregnant. The Ashley has reached out to him for additional comments.
The Ashley will continue to update this story as more information comes in.
(Photo: MTV)