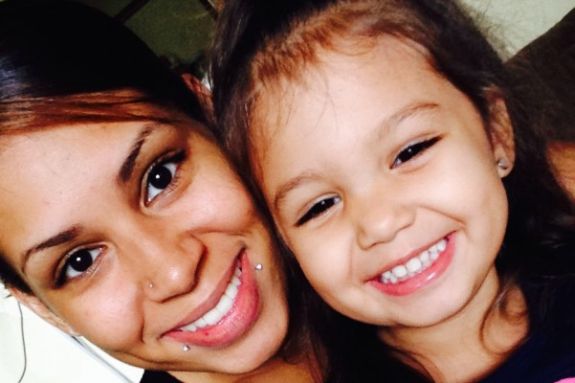 Fans watched as Cleondra Carter gave birth to her daughter, Kylee, on the third season of 16 and Pregnant, and were impressed at Cleondra's ability to keep a level head and good attitude. Cleondra is probably best-remembered for taking care of her niece almost full-time (despite the fact that Cleondra was only a teen), because her sister wasn't taking responsibility for her child. It's been four years since Cleondra's daughter Kylee was born and the show's fans continue to keep up with Cleondra and her daughter through photos Cleondra posts on social media. Yesterday, however, Cleondra posted something much more serious: a plea for help to her friends and fans.
In a long letter posted to a GoFundMe.com page, Cleondra explained the tragic turn her life has taken over the last few weeks. Cleondra, now a 21-year-old waitress and student, revealed that Kylee's father, Mario Escovedo, had recently taken her to court to battle for full custody of the four-year-old and won, leaving Cleondra devastated and desperate to appeal the decision.
"Kylee's father and I could not make our relationship work for the sake of Kylee but I have always tried to make things comfortable and sane for our daughter," she wrote. "I was and have always been the main primary caretaker of Kylee unless I was at school or at work."
In her letter, Cleondra wrote that Mario and his family eventually started to cause problems in regard to parenting Kylee.
"I have worked so hard at providing our daughter with a stable and comfortable environment and it seemed that every chance her father and father's family had they would hinder her from progressing and slow down her process of learning new things just to spite me," she wrote. "They would never listen to a word I had to say when it came to Kylee…As soon as we started weening Kylee off the pacifier and bottles, that started a huge conflict in the household because while his mother and sister watched her and did not obey the rules of no pacifiers or bottles. Even throughout these situations, I have never withheld Kylee from her father or used her as leverage. I know she loves him and I have always done what's best for my daughter. As hard as I tried, things just would not work with us co-parenting."
Cleondra wrote that after she and Mario broke up and she began dating other people, the trouble between her and Mario worsened. When she moved to her own apartment 30 minutes away from Mario, Cleondra wrote that Mario filed papers to gain full custody of Kylee.
"Kylee's father filed papers against me for full custody of Kylee because I was 'withholding' her from him even though we had a set [custody] schedule stated above and it continued as I moved. On October 31, 2014, this is when my world was crushed. We had trial for the custody of Kylee."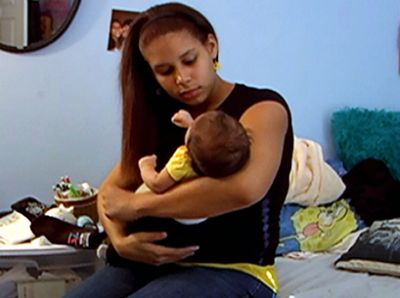 Cleondra wrote that during the trial, Mario and his family told "nothing but lies" about her to help Mario win custody. To make matters worse, she said her attorney allowed it to happen.
"My attorney was absolutely TERRIBLE! My attorney did not fight, no one fought for Kylee and the judicial system failed me as a mother," she wrote. "They made MANY false accusations that had no proof. The lies were outrageous, hurtful, and underhanded. It is unbelievable to me how these people just loved me 2 years ago and now I am such an awful mother. Their case was built on nothing but lies, but it was built. I was badgered horribly on the stand by his attorney for being a young woman who has started to date. Somehow that has been misconstrued into being promiscuous. At the end of the day, I lost my daughter."
Cleondra desperately wants to appeal the decision, but needs to raise $5,000 for the appeal and attorney fees. She has set up a GoFundMe.com page in hopes that fans of the show, or people that have had to deal with similar custody situations, will help her raise enough money to get Kylee back.
"Any donation would help greatly because I only have one job," Cleondra told The Ashley. "I am a server and I have no help really financially."
In her letter, Cleondra wrote what life has been like since Kylee has been living with Mario.
"I am empty without her and now I must FIGHT! Kylee is my world," she wrote. "It revolves around her and I live my life around her because she will always and forever come first. I do what's best for my daughter. I had schools picked out for her, she is very close to my family, I taught her right from wrong, and was raising her how to be the little lady she is growing into. No one can teach her how to be a little lady or a woman better than her own mother. When they took her away from me, I could not believe it. I could not breathe. She is my everything. Nothing is the same. I have been by my baby girl's side since she was born, so to have that taken away by lies, is unbelievable."
Cleondra said that she was given visitation rights to Kylee, but Mario is making sure she sees Kylee as little as possible.
"I get visitation rights, but Mario won't let me see her any more than that," Cleondra told The Ashley. "Kylee cried last time all the way to her dad's house because she didn't want to go."
To read Cleondra's full letter, and to make a donation, click here!
UPDATE: Kylee's father, Mario, has responded via a post on his Facebook page.
"On October 31st a judge gave me fully custody of my daughter Kylee Sue Escovedo. This judge heard BOTH sides of everything I have to offer and everything cleondra has to offer as a parent. She passed judgement and as a result I got full custody for MANY good reasons. If I tried to inform everyone of all the reasons why I won and she lost, this post would never end."

(Bottom Photo: MTV)