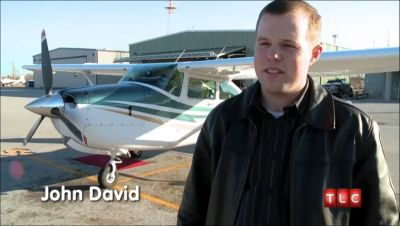 TLC was probably salivating at the thought of another Duggar kid courtship and wedding when OK! magazine ran an article on Monday stating that it was likely that second-oldest Duggar boy, John-David, was in a courtship with a girl named Laura. The article claimed that "a brown-haired girl" had been photographed "sitting next to and standing near the 24-year-old at various Duggar family outings."
Many of the photos on the Instagram account of Laura DeMasie (a brown-haired girl) feature the 19 Kids and Counting stars. In one particular photo of the family standing in front of an RV, Laura appears next to John-David and the magazine speculated that she and John-David are together.
"Fans are speculating that since Jill is standing in front of her husband Derick Dillard and Jessa in front of her hubby Ben Seewald, the pair may be courting, too! She's also the only non-Duggar in the family photo," the magazine reported.
While TLC viewers love them some Duggar wedding episodes, they unfortunately will not be getting one featuring John-David any time soon, according to his parents, Michelle and Jim Bob Duggar.
The couple issued a statement regarding the courtship rumors.
"John is not courting and not in a relationship…and he has never been in one! Just thought we'd set that straight," they said. "He's still waiting for the right one at the right time."
The family's official blog added, "This means John is still single, ladies, and he has an airplane! Jim Bob, who has tried multiple times to find someone for John, joked in a recent episode that he is accepting applications from eligible women."
John-David, as well as his (unmarried and constantly badgered about it) sister, Jana, discussed why they aren't currently courting in a recent interview with People. John-David revealed that, after he joked during Jill's rehearsal dinner episode that he was "accepting applications" for a wife, the network actually received a lot of applications!
"It was a joke," he told the magazine. "But I hear that we started receiving applications like crazy. I don't know how many have come in and I haven't looked at any, but I hear there are a lot."
(Photo: TLC)