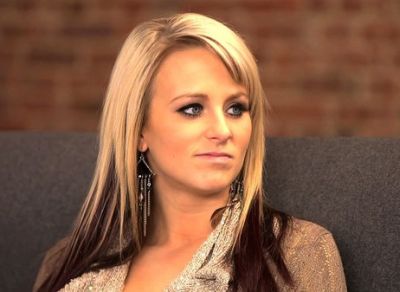 A few days ago, The Ashley broke the news that the producers and cast of Teen Mom 2 were preparing to start filming the show's sixth season. She also told you that while Jenelle Evans, Chelsea Houska and Kail Lowry had all signed on for Season 6, Leah Calvert had not yet turned in her production contract. Earlier this week, a show source told The Ashley that MTV planned to go on with Season 6 with or without Leah.
Well, it looks like it will be without Leah.
Last night, Leah confirmed The Ashley's reports by telling a fan that she would not be doing Season 6. She added that she wishes her co-stars well.
"I hope my girls continue to move on with TM2.  I wish them the BEST xoxo," she tweeted.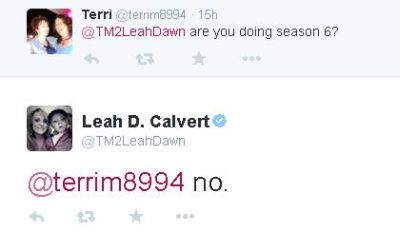 Of course, many news outlets jumped on the story and The Ashley has been seeing a lot of incorrect information circulating. Below she will try to distinguish the rumors from the fact.
Q: Will the show get cancelled if Leah doesn't do it?
No way. The other members of the cast are already signed on and going to continue filming without Leah. Producers are hoping that she will change her mind and agree to film, but they are prepared to go on without her. Those involved with the show– production, cast, etc. were notified recently that Leah was not signing on and to be prepared to go on without her.
Q: Is it true that they are replacing Leah with another girl?
The Ashley saw this one circulating and thought it was hysterical! NO. They are not going to go pull a random girl from '16 and Pregnant' to replace Leah. They will run the show with Chelsea, Kail and Jenelle only, just as 'Teen Mom' will run with only three of the original four girls.
Q: Will Corey or Jeremy still be on the show even if Leah doesn't sign?
No. The show is about the mothers and MTV will not continue on with Leah's story if Leah isn't part of it. Also, it's highly unlikely Jeremy would have signed on for this mess anyway. Corey and his family will also not film, due to this reason. Corey's father, Jeff, confirmed this earlier this month via Twitter.
Q: Why did Leah quit?
She has not yet revealed this. (Give her time. We all know how she loves to reveal stuff on Twitter and Facebook!) The Ashley's sources say that she was very scarred after all of the Corey/cheating stuff aired on 'Teen Mom 2' and she doesn't want to go through that again.
Q: When will Season 6 air?
No premiere date has been set for Season 6. (It hasn't even been filmed yet!) However, The Ashley hears that it will premiere after the next season of 'Teen Mom' airs.
Note: The Ashley mistakenly wrote that Chelsea Houska's father, Randy Houska, had tweeted a premiere date for Season 6. He did not; The Ashley misread the tweet, and included it by mistake. It has been removed so y'all can calm down now. The Ashley regrets this error.

The Ashley will keep you posted on the latest updates!
(Photo: MTV)