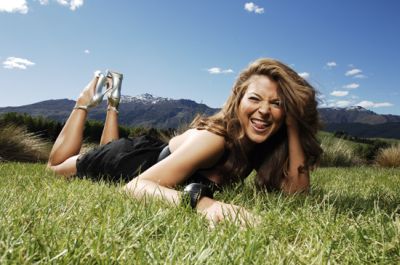 MTV will celebrate the beautiful life of The Challenge star Diem Brown in an upcoming special show. The special, which will be called "We <3 Diem," will show highlights from Diem's career on the MTV reality show, her relationship with 'Challenge' cast member CT Tamburello and her fight against cancer. (Diem died on November 14 during her third battle with the disease.)
"We've followed her through her unwavering attempts to win a Challenge and her infamous on/off relationship with longtime love CT, while simultaneously combating her disease off-camera," " MTV said in a statement issued to People. "In 'We <3 Diem', we look back at Diem's powerful journey, giving tribute to her perseverance and strength through it all."
The special will also include interviews with some of the people Diem competed with on 'The Challenge.' Many of the cast members that were closest to Diem have been getting calls from network producers over the past week. They will reflect on their favorite Diem memories and tell stories about the late reality star.
The "We <3 Diem" special will air Tuesday, December 9 at 9/8c.
To watch the beautiful tribute video that was played at Diem's funeral on Tuesday, click here.
(Photo: MTV)