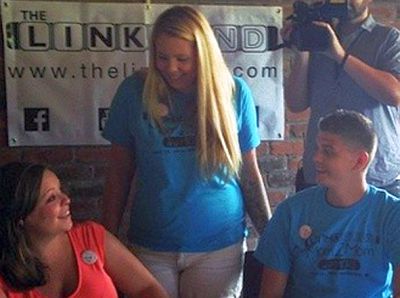 Several Teen Mom stars will team up this Black Friday weekend to create a fun shopping experience for their fans, and in the process make Christmas a lot better for kids that may be spending their holiday in the hospital. 'Teen Mom' stars Catelynn Lowell and Tyler Baltierra, as well as Teen Mom 2 star Kail Lowry are joining forces with The LinkFund next Saturday, November 29, to put on the 1st Annual Christmas Shopping Extravaganza in Hartland, Michigan.
The event will feature all kinds of vendors, all in one place, as well as other fun activities for kids.
"It started as a show for local people to come and shop local crafters and vendors on Black Friday weekend." Ashley Haponek, who runs The LinkFund, told The Ashley. "We had so many people inquire and had to extend our max from 60 tables to 100. We are now maxed out! The LinkFund raises donations by selling our bracelets and [by doing] these events so we, of course, wanted to add something special in for the holidays. We have literally every single type of vendor you can imagine!"
This is not the first time Catelynn, Tyler and Kail have worked with The LinkFund. In July, they teamed up with the organization to raise over $2,000 at an event for a Michigan girl with cancer. You will get to see some of that event on the upcoming fifth season of 'Teen Mom,' as MTV was there filming.
"We had talked with Kail, Tyler and Catelynn about doing more events with us in the future and they actually came to me asking to come help!" Ashley said. "I didn't even have to ask them first!"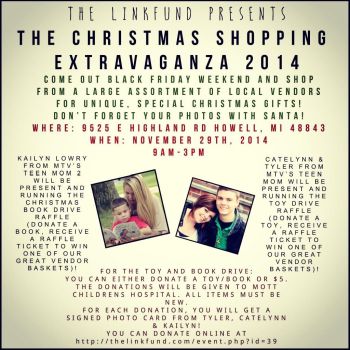 The reality stars will not only appear at the event, but also help collect new toys and books for the children at Mott Children's Hospital.
"Kail had the idea to do a book drive and Ty and Cate wanted to then do a toy drive," said Ashley. "With Ty and Cate being from Michigan, we brainstormed to find Mott Children's Hospital. If you're from Michigan, you know how much that hospital has made an impact in families' lives and what it does for children."
Anyone that brings a new toy to the event will receive an autographed photo of Catelynn and Tyler. Those who bring a new book will receive one of Kail.
Tyler told The Ashley that he and Catelynn are hoping this event will make the holidays a little brighter for people that are struggling.
"There are families that don't have access to the things we take advantage of like health or the financial means to provide a decent Christmas," Tyler told The Ashley. "It's our public duty as part of this society to help the helpless and support the people less fortunate than us. We chose The LinkFund simply because they share that drive to make a difference and help people."
Ashley of The LinkFund stressed how much she enjoys working with Catelynn and Tyler, as well as Kail and her husband Javi Marroquin (who won't be able to attend this event).
"We love to work with these two couples because they are so selfless and generous, they just want to help!" she said. "They are so easy to work with and fun and a pleasure to be around!"
The event will take place from 9am-3pm at the Old Hartland High School at 9525 E Highland Rd in Howell, Michigan. (The school is technically located in Hartland, but has a Howell address.) Admission is $3.
For more information on The LinkFund, click here!