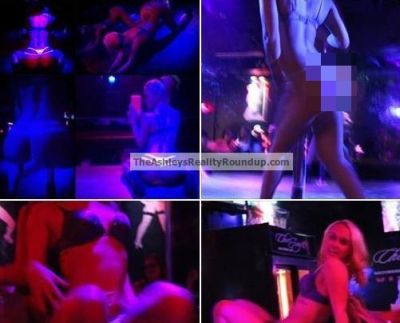 Fans  following the official Facebook fan page for 16 and Pregnant Season 5 star Jordan Cashmyer got a surprise this morning when they logged on to see photos of the reality TV mom dancing around a stripper pole in her underwear, and grinding on customers of the Chez Joey strip club in Baltimore. The photos, posted by her baby's father, Derek Taylor, were also accompanied by what Derek says is the truth about Jordan's mothering skills—or lack thereof.
"For those of yu who have no idea how Jordan spends her days and nights allow me to show yu…. This is the reality of it," Derek wrote. "She doesn't help with her child at all so anything yu see her say regarding [our daughter] Genevieve is more than likely a lie."
Derek went on to reveal how little Jordan allegedly sees her daughter.
"She hasn't seen Genevieve in over a month and I'd say about a total of 2 hours in the last 3-4 months and that's being generous," Derek wrote.
Followers of the fan page, which is run by several admins, Jordan and Derek, were quick to accuse Derek of lying about Jordan. However, Jordan's own father, Dennis, stepped in (via comments) to confirm what Derek posted was, indeed, true.
"I am Jordan's father I am so sad for my daughter and her choices," Dennis wrote. "But the facts are my wife and I raise Evie 90% of the time the other time she is with her father. My wife and I 100% support Evie financially and have since July. We are trying to protect Evie and our other kids from all of this media s**t storm Jordan created. We are doing what is best for Evie on a daily basis."
Needless to say, Jordan, who had previously said that she worked at the club but did not dance, was not happy about the post. She posted "Yall are so f**king ridiculous" to her Twitter account a few hours after the photos went up on Facebook. The fan page has been temporarily taken down for the time being.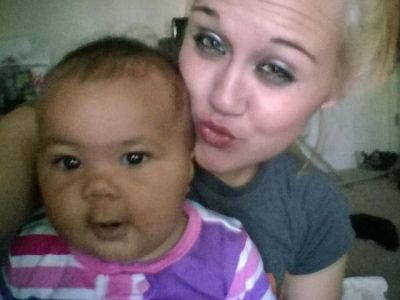 Last month, Jordan spent time in a treatment institution after she attempted to kill herself via a drug overdose. Although she seemed to be making progress after she was released, it appears that she is now back to her old ways of stripping and allegedly using drugs and alcohol, according to a source close to the situation. She reportedly goes by the name "Raquellle" while working at 'da club.'
In fact, sources tell The Ashley that Jordan's father and his wife are preparing to get the paperwork together to allow them to take custody of Evie. (Derek is still involved in the baby's life and would likely also have rights.) The source said that Jordan is not bothered by this situation; in fact she has said that she is willing to sign away her rights to her daughter.
The whole story is sad—the fact that Jordan has allegedly not seen her kid, the fact that this is all playing out on a Facebook fan page and, of course, the fact that girls that were on one episode of '16 and Pregnant' have Facebook fan pages with thousands of fans following them.
We may get to see some of this battle play out on our televisions! Jordan is one of the Season 5 girls that filmed an update segment for the upcoming "Where Are They Now?" show, so some of these issues may be addressed.
The Ashley will update this story when there is more news.
(Photos: Facebook)