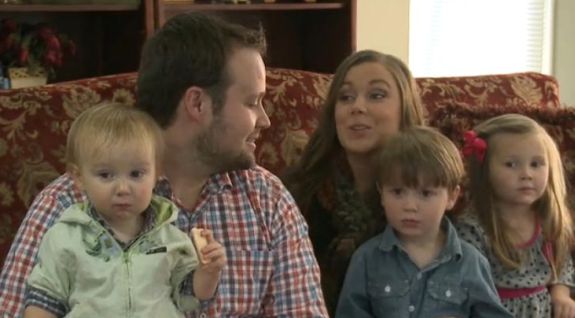 By Holly Rasmussen
Another Duggar girl has announced that she's pregnant. No, it's not newlywed Jessa Duggar (at least, not yet!) Anna Duggar, wife of oldest Duggar son Josh, is pregnant with the couple's fourth child.
The D.C.-based couple made the announcement via Twitter yesterday.
"We are so excited to announce…we're pregnant! #4andCounting #BlessingfromTheLord @joshduggar #19Kids," Anna tweeted.
Much ado was made on 19 Kids and Counting this season about whether or not Anna was carrying another "blessing from the Lord." (They are already the ripe old age of 26, and only have three babies to show for it. Jim Bob must be so disappointed!)
This season ended with Anna revealing that she was not expecting another tiny member of Jim Bob's army. But alas, that didn't last long.
Josh told Radar Online in 2010 that he and Anna "were going for 25 [kids]." He apparently wants to beat out his own parents who famously have 19 kids.
Josh's sister, Jill, notably announced her pregnancy just a month after her June wedding. Josh's other sister, Jessa got married in November, and, if she's anything like her siblings, will probably be making her own pregnancy announcement shortly. Soon, there will be enough Duggars to populate a small town. (I'm surprised grandma Michelle hasn't had some type of nervous breakdown now that she's been put out to pasture as the family's baby-maker. We saw last season that she's hoping that she could have a 20th child.)
Josh's parents famously gave all of their children 'J' names. Josh's kids' names are brought to you by the letter M. He has Mackynzie, Michael and Marcus. My top guesses for the new baby's name are Mashella (shout out to grandma), Masyn or Madisyn (keeping that out-of-place 'y' in there) Merica (to further Josh's conservative political career) or my personal favorite Merena (since they obviously don't know what that is).
In a video posted by TLC, Anna said she is currently nine-weeks pregnant and is having a lot of morning sickness. However, she isn't letting that spoil this joyous time for her.