America's favorite polygamous family, The Browns, are coming back next month! While we've been getting a decent dose of multi-wife hijinks thanks to My Five Wives, viewers are thrilled to hear that a new season of Sister Wives is on its way. TLC, the network behind both shows, announced today via TheWrap that the next season of 'Sister Wives' will premiere on Sunday, January 4. The first episode will bring two hours of Brown family fun.
"Kody and the Sister Wives – Meri, Janelle, Christine and Robyn – have settled into life in the cul-de-sac, but life is anything but easygoing for the family," the network said in a statement. "The family prepares for two of their daughters, Mykelti and Madison, to graduate high school bringing a flurry of mixed emotions.
That's not all that will be happening this season; it seems they are finally going to address what the heck is going on with Dayton, Robyn's son.
"The family bands together to deal with a potentially risky surgery involving their son Dayton."
Viewers have noticed (and commented about) Dayton's health problems, but up until now the Browns have been reluctant to discuss them in detail. Last season, Robyn told Kody that she believed that Dayton has Asperger's Syndrome. Although many viewers believe that the boy does, indeed, have some form of autism (and have been very vocal about it on public forums that discuss the show), Kody blew the idea off.
Of course, Kody is not exactly a medical expert. Remember, this is the same guy that told his daughter not to kiss a guy because kissing allows you to transfer your hormones into someone else's body.
Sigh.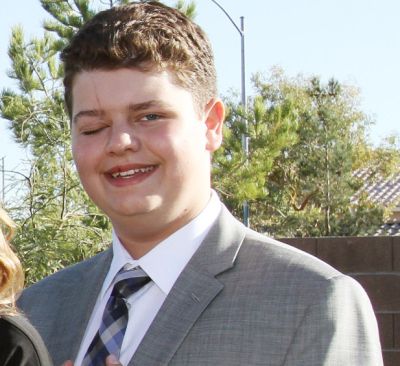 Viewers also noticed that something was not quite right with 14-year-old Dayton's eye over the past season or so. At one point, it appeared that he had a black eye. At other times, it looked like his eyelid was drooping and possibly even had some type of scar or cut going across it. While the network statement did not specifically say that the "surgery" involving Dayton was in regard to whatever is happening with his eye, this is likely the case.
In the family portrait above, which was taken on November 29, Dayton is now wearing glasses.
Also coming this season will be some more business-related stuff (that we don't really care about) in regard to the family's Sister Wives Closet business. (Unless the family is going to go into a big meeting and make fools of themselves again like they did last season, The Ashley is not really interested.)
The network provided TheWrap with a preview clip in which a lesbian polygamist (apparently those exist!) tries to invite herself into the Brown family and/or marry Robyn.
Watch the clip below and be creeped out:
(Photos: Twitter, TLC)