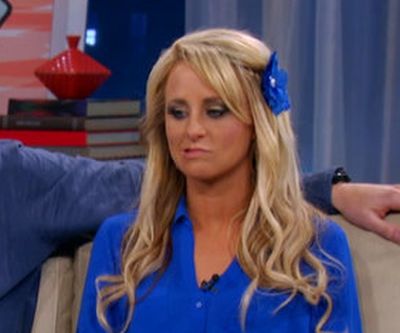 Just weeks after Leah Calvert told fans on Twitter that she would was quitting Teen Mom 2, it looks like the reality star has changed her mind!
The Ashley can exclusively reveal that Leah has signed on for Season 6! Multiple sources have confirmed to The Ashley that, although Leah was worried about having her marriage turmoil exposed on national TV again, she has agreed to do Season 6.
According to one source, Leah signed the Season 6 paperwork last week and will begin filming her segments soon! (The other girls– Chelsea Houska, Kail Lowry and Jenelle Evans–recently began filming again.)
Another show source tells The Ashley that Leah signed on for one reason only: she needs the money. Although she recently started her own styling/photography business, Leah does have three children to care for and, with her marriage to Jeremy Calvert basically over, she needs to have a steady source of income.
With Leah now on board for Season 6, her ex, Corey Simms, will also be allowed to film. (Corey and the rest of Leah's family would not be able to do 'Teen Mom 2' if Leah hadn't signed on. The Ashley's not going to lie–she would have loved for Corey to have taken over as the principal on the show. Can you imagine him reading those narrations?!)
Anyway, it's not known whether or not Leah's estranged husband Jeremy will sign on. The Ashley thinks it's unlikely, as he seems to want very little to do with Leah or the MTV crew at this point, but she can't confirm or deny that he will be a part of Season 6.
The Ashley will keep you posted when she gets more details.
Media outlets MUST credit and link back to The Ashley's Reality Roundup for this exclusive story.
Leah's drama with her husband Jeremy recently made OK magazine's list of 20 Biggest 'Teen Mom' stories of 2014! Check out the rest of the stories here!
(Photo: MTV)