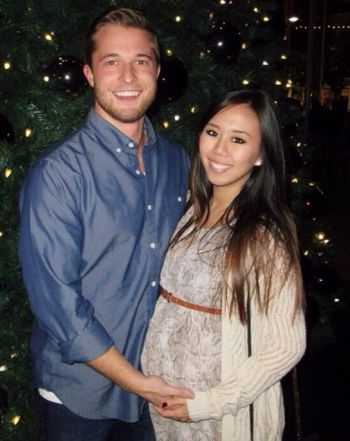 Amber Lee and Ethan Diamond fell in love on the set of the first season of Are You The One? While fans were skeptical that the couple's relationship would even last until the Reunion Special taping, Ethan and Amber proved everyone wrong when they showed up to the Reunion happy and together. Ethan proposed to Amber at the Reunion and  the couple is now expecting their first child any day now!
Last night they did an hour-long YouNow video chat with fans, who asked them questions about their lives today. As the only successful couple from 'Are You The One?' Season 1, Amber and Ethan had a lot to say about their relationship and the relationships of the folks on Season 2. However, they seemed most excited to talk about becoming parents.
Here's what we learned about the 'Are You The One?' baby:
It's a Girl.
Amber and Ethan revealed earlier this year that they were having a baby girl. As far as names, the couple said they have a few picked out but are waiting until the baby arrives to officially decide what they will call her.
"We're not 100 percent sure until we hold her in our arms," Amber said. "We have a few names picked out but you won't know until she gets here because we won't know! Everyone says that you pick out a name and then sometimes you hold the baby and it's like, 'No that's not you.' So we're going to keep it on the hush until we know for sure."
They asked fans to come up with some names for their baby.
"Her last name is Diamond so try not to make it too stripper-y!" Amber joked.
One name that they definitely won't choose: Kayla, the name of their 'Are You The One?' co-star.
"Never!" Amber said, with Ethan adding, "Not gonna happen!"
She will be here any day.
Amber said on the YouNow chat that she is due in exactly one week.
"We're super excited," Amber said. "Hopefully the baby doesn't come too much later because then she'll be a Christmas baby."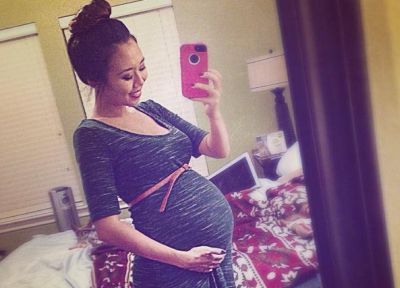 She will be a Texas baby.
Amber is from Austin, Texas, but Ethan is from Denver, Colorado. After falling in love on 'Are You The One?' Ethan traded in his ski cap for a cowboy hat and moved to Texas.
"He moved here for me!" Amber said, adding that they are currently residing in the Lone Star State.
She was probably conceived during a secret romp.
"[Producers] wouldn't let us see each other after the show," Ethan said. "We really hit it off, so we had to see each other in secret. "
The couple was forced to shuttle back and forth between Colorado and Texas to see each other.
"I got yelled at [by producers] a lot for seeing Amber," Ethan said.
She got some cool gifts from her parents' 'Are You The One?' co-stars.
Amber celebrated her baby shower in late October, and several of her friends from the show attended. (Click here to see a picture of Amber with Season 2's Ashley Hall and Jenni Knapmiller!) The gals even created cute "MTV Baby" onesies for Baby Diamond to wear when she arrives.
Ethan and Amber said they have remained close with a lot of the people from their season as well.
Her parents are married.
Amber confirmed that she and Ethan are officially married.
The wedding took place in October and was very small.
"Ethan and I decided to have a sweet private wedding this year," she wrote on her Facebook page. "But rest assured, you guys didn't miss out on anything because we'll still be celebrating with a full blown wedding ceremony next year with all you very important people!"
Amber and Ethan will not be returning to TV any time soon, but a few of their co-stars from 'Are You The One?' Season 1 will be starring on the upcoming season of The Challenge, as The Ashley told you back in November. Click here for details!
(Photos: Facebook, Twitter)