Robbie Kidd has finally broke down and admitted that he and Teen Mom 2 star Leah Calvert did, indeed, have an affair in October. While the West Virginia native previously denied hooking up with Leah, he has come clean and admitted that he and the married reality star slept together while Leah's husband, Jeremy Calvert, was away. (As you will probably remember, Jeremy called Leah out on Twitter in October, accusing her of having sex with Robbie.)
In a new interview with In Touch Weekly, Robbie explains what really happened between him and Leah.
The Ashley will give you a second to get your banjos ready…
"I asked her if she wanted to come over and talk," Robbie told the magazine. "Leah didn't hesitate. She came right over, and one thing led to another and we had sex. We wore protection. That was the one and only time."
The Ashley would like to stop here and gently remind you that a magazine (or website, etc.) cannot legally attribute quotes to a person that did not say those quotes. Therefore, since Robbie went on the record and admitted it, this is legit. Had the quotes not been attributed to Robbie directly, The Ashley would have been skeptical too.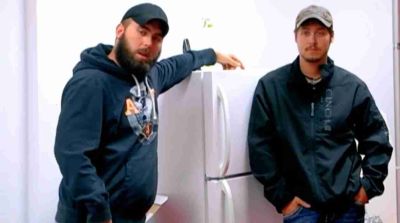 Anyway, Robbie went on to reveal that he and Leah (whom he dated before she hooked up with Corey) seem to be co-dependent on one another.
"Whenever things are going bad in our lives, we reach out to each other, and this is what happens," he said.
Robbie had recently been arrested at the time of his tryst with Leah, and Leah was struggling in her marriage to Jeremy.
"Leah felt really alone because Jeremy's gone a lot for work," Robbie said.  "She said Jeremy doesn't care about her or their family when he's gone. All he wants to do is talk about sex."
Robbie has since gotten back with his baby-momma, Monica, so he has no reason to keep hooking up with Leah. Still, since he is very close to Leah's family (he lived with Leah's brother Isaac up until recently), he will always be close to her.
"We'll always have a connection, but I'm tired of the drama," he said. "I'm finally happy with where I'm at in my life. I don't want anything to do with her anymore."
Robbie recently deleted all of his social media accounts, and Leah has yet to address Robbie's confession on Twitter.
Up until this point, Robbie had denied that an affair with Leah had taken place.
"Small town drama," Robbie told The Ashley on Twitter in regard to the affair rumors. "That's all it is."
Luckily, we will be able to see some of this drama play out on the sixth season of 'Teen Mom 2.' As The Ashley exclusively told you yesterday, Leah recently signed on to do the new season, despite having quit the show just weeks ago.
UPDATE: Leah's grandmother, Sandy, seems to be confirming the cheating did occur. She added a comment on Facebook underneath a story about Robbie coming forward and admitting to having an affair with Leah. In her comment, it appears that Sandy is accusing both Leah and Jeremy of being unfaithful during their marriage.

(Photos: Facebook, MTV)