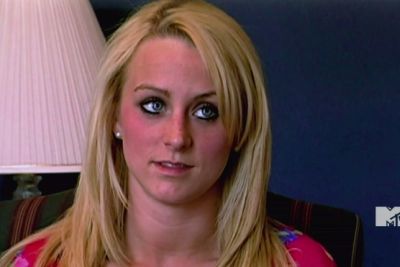 Leah Calvert's personal life may be at a low point, but the (former) Teen Mom 2 star's career is taking off. The Ashley can exclusively report that Leah has opened her own makeup and photography studio in West Virginia!
Leah, who announced last month that she was quitting the MTV reality show that made her famous, has opened a studio called "Gloss." She is the owner of the business, and works alongside two of her friends providing makeup, styling and photography services. (She finally found somewhere to use all of that Mary Kay makeup, y'all!)
"Gloss and our stylists have been featured in In Touch magazine and pride ourselves on bringing a little red carpet magic to our clients," the studio website's "About" section reads. "We have trained professionals with experience to meet any styling needs. Check out our packages and email us today!"
(Does anyone else think it's a bit odd that Leah would promote In Touch, being that it was the magazine that originally exposed her alleged drug problem?)
Anyway, the makeup studio also specializes in getting little girls ready for beauty pageants. For $450, Leah and the gang will come to you and spray-tan your lil Honey Boo Boo and then do her makeup and hair.
The Ashley is being snarky but in actuality, she thinks this is a fantastic move for Leah. Given all of her marital problems (and other assorted woes), the best thing Leah can do is get off of TV and resume a normal life. This type of work would be great for Leah, who can use the fame she's garnered from 'Teen Mom 2' to create a successful life for herself.
Leah's family seems to be supportive of her newest venture. Yesterday, her grandmother, Sandy, asked her Facebook friends to pray for her granddaughter.
"Everyone start praying for Leah Dawn Calvert God knows Shes in his hands," Sandy wrote.
Leah has also seemed to have found a renewed interest in religion.
"God is LOVE!! I am so thankful for the life he had give unto me!" she tweeted on December 7.
Leah isn't the  only Messer family member to have recently hopped on the Jesus train. Leah's sister and father have recently been seen attending church in West Virginia.
Congrats to Leah!