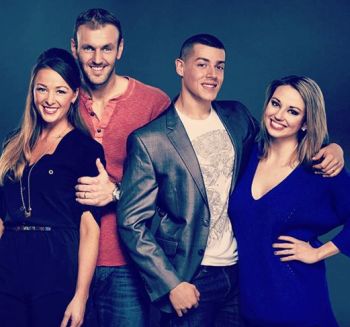 Married At First Sight fans rejoice! We will soon be able to catch up with the two successful couples from the FYI Network smash hit reality show when the spin-off series, Married At First Sight: The First Year premieres next month! FYI Network announced today that the first episode of the show, which follows Doug and Jamie, and Jason and Cortney over their first year of marriage, will premiere on Tuesday, January 13 at 9 p.m.
The couples, along with another couple–Monet Bell and Vaughn Copeland, who didn't work out–got hitched minutes after meeting each other in March 2014. A team of experts matched them based on a variety of attributes and qualities. At the end of the season, Monet and Vaughn chose to get a divorce, but Doug and Jamie, as well as Jason and Cortney decided to stay married. This spin-off will show what happened to the couples after that.
"Viewers will see Jamie and Doug, and Cortney and Jason, continue their journeys from the six month mark of marriage to their March 2015 one year anniversary," a FYI press release read. "From the holidays to birthdays to moving into new homes – viewers will see the two couples mark many firsts together, as well as receive advice and guidance from season one's trusted specialists, including – sexologist, Dr. Logan Levkoff; psychologist, Dr. Joseph Cilona; and sociologist, Dr. Pepper Schwartz."
We will also get to see what Vaughn and Monet have been up to since filming ended. The press release promises a "check-in" with the exes.
In October, Monet confirmed on Twitter that she and Vaughn were both dating other people. Some viewers suggested that she and Vaughn try to make their relationship work so they could take part in the spin-off, but Monet made it clear that she wasn't interested in doing that.
"This reality TV show isn't fake. That was my real life, my real feelings," she tweeted. "It's TV so there will be editing…more power to the folks making their money. But that's not how I'm going to make mine."
Vaughn retweeted her sentiments.
The cast members that are taking part in the spin-off promise that the show will be full of excitement.
"[This is] Chapter 2 in the craziest year of my life," Jason tweeted.
Once the (above) promo photo for the new show was released, fans wondered if Cortney was pregnant, due to how her shirt was angled. It is unlikely, being that, back in October, she told a fan on her Facebook page that she and Jason weren't having a baby any time soon.
"We def want to be parents- but need a few years to just be young and in love," she wrote.
'Married at First Sight: The First Year' will feature eight, one-hour episodes, according to a press release put out by the network in September. It will cover the period from October 2014 until their one-year wedding anniversary in March 2014.
The Ashley can't wait! She loves this show!
(Photo: FYI)