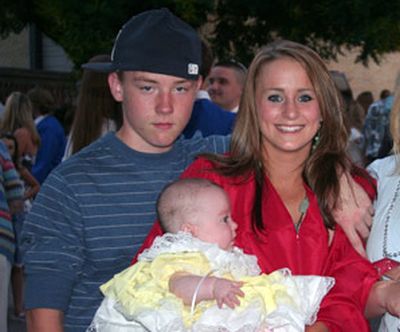 Leah Calvert's home life with her husband, Jeremy Calvert, is currently a mess, but the Teen Mom 2 star still has a reason to celebrate. Yesterday, Leah became an aunt when the girlfriend of her younger brother, Isaac Messer, gave birth to a baby girl. Leah, who also has a younger sister, Victoria, has become an aunt at the age of 22.
Isaac, who is still in high school, is now the proud father of Baily Amelia Messer. His girlfriend, Maddy Smith, gave birth to the baby girl at 4:12 p.m. Baily weighed in at 5 lbs., 6 oz, according to Maddy's Twitter account.
While many of Leah's family members came down to the hospital to welcome Baily into the world, it's not known if Leah has seen her niece yet. As The Ashley told you yesterday, Robbie Kidd came forward last night and admitted that he did, indeed, have sex with Leah in October, confirming the reports of an affair that have been circulating for months. Isaac had actually been living with Robbie up until last month.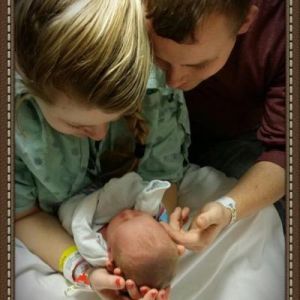 This is the fourth granddaughter for Leah's mom, Dawn Spears. She is already grandma to Leah's three daughters, Aleeah, Ali and Addy. Victoria does not currently have any children, although she recently became engaged so that could change.
The Ashley broke the news that Isaac and Maddy were expecting back in October.
Leah has not yet spoken about her baby niece on her social media accounts.
(Photos: Facebook, Twitter)