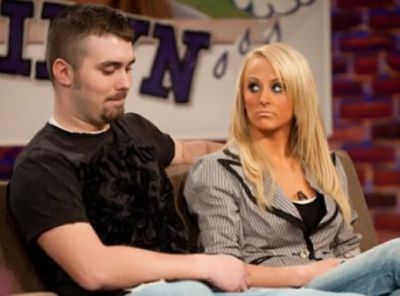 Get yer banjos out again! Teen Mom 2 star Leah Calvert has once again used social media to take our her aggressions– and this time her target was her ex-husband Corey Simms' marriage to his current wife Miranda! (The Ashley seriously couldn't write a hillbilly soap opera that was better than the real-life drama Leah has given us over the past few months!)
Anyway, late Thursday night (around 2 a.m. in the hollers of West Virginia, to be exact), Leah took to her official Facebook fan page to rant about stories that she saw posted to a Facebook fanpage allegedly with a connection to Corey and his family. (There is no confirmation that the fanpage is, indeed, connected to the Simms family in any way, however. In fact both Miranda and Corey's stepmom Joetta Simms confirmed on Twitter on Friday morning that they have no connection to it at all.)
Leah's page is confirmed by Facebook, however, so we know her rant was legit. We also know it was Leah writing the rant because she mixed up "is" and "are," just like she frequently does when speaking on the show.
"Things you see on Corey and Mirandas 'official and APPROVED page' is far from being true," she wrote. (Leah was mad about an article about her being posted to the Corey fanpage with a headline saying she was acting like she was single.) She was so enraged by the story that she actually commented on it. (Click here to read what she wrote!)
Anyway, Leah's rant was far from over. She next decided to hint that Corey and Miranda are struggling in their marriage, while she and her estranged husband, Jeremy Calvert, are doing just fine.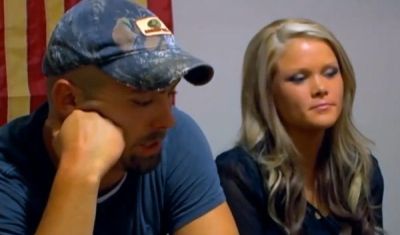 "All I have to say about it is that they may want to be very WISE about what they post because a marriage that PRETENDS to be PERFECT is NEVER perfect," Leah wrote. "Especially when there is way more not told to a specific spouse, and thats all im going to say…This is all im going to say in regards to all the craziness being post on their page as well as any other page. Marriage is far from perfect but my husband and I are very much in love with each other and still remain married and that doesnt plan to change."
Of course that's not all she was going to say…she also commented on the recent custody hearing she and Corey had regarding their twin girls.
"As far as the status on our court hearing…. I am very happy with the results and will talk about it very soon. I think the results were in my daughters BEST interest."
The Ashley figures that Leah will pull a post-and-delete by morning, so The Ashley was kind enough to screenshot her rant for all of you late-risers. Click here to see the post in all its glory!
The story just keeps getting more entertaining, y'all!
(Photos: MTV)