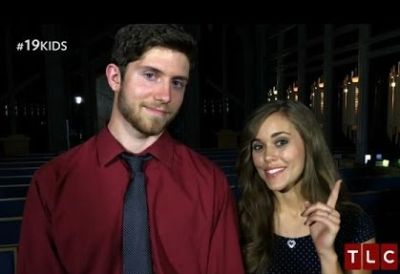 Did Jessa Duggar accidentally reveal a big secret on her Instagram account?!
Fans of 19 Kids and Counting seem to be expecting a pregnancy announcement any day now from Jessa, who has been married to Ben Seewald for nearly two months. (If she's anything like her sister Jill, who got pregnant within a week of her wedding, that's not unlikely.) While Jessa and Ben have not announced that they are expecting, Jessa may have spilled the beans today while attempting to post a tribute to her sister Jill on her Instagram account.
Currently, Jessa's Instagram contains a photo of her and Jill at Jessa's wedding, along with the caption: "So thankful for this sweet girl! Jill, you're such an amazing example to me of what it means to be a loving wife! I love you so much!! ❤️ So blessed to call you my sister."
However, that's not what the caption originally said.
Instagram account "Free Jinger" managed to screenshot the caption Jessa originally posted before she deleted it. Jessa's followers immediately picked up on the fact that the caption seemed to hint that Jessa, like Jill, is pregnant.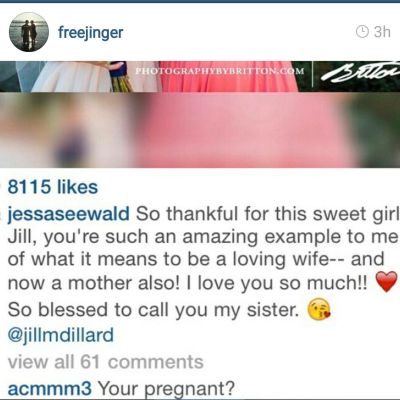 Of course, Jessa could have been talking about her becoming a mother like Jill in the future; however, the fact that she deleted the caption and reposted is somewhat telling.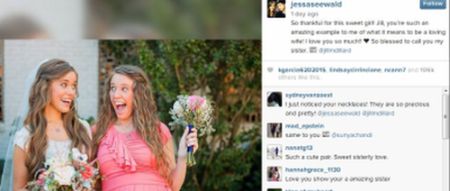 Several tabloids have pointed out that Jessa has not posted a full-length photo of herself to her Instagram since her wedding. (If you scroll through her pre-wedding posts, she used to post "body shots" frequently.)
There have been rumors that Jessa and Jill are feuding (based solely on the fact that the girls don't follow each other on Twitter). Jessa's tribute to Jill was clearly an attempt to extinguish the rumor's flames, but she may have started a whole new fire with this post!
(Photos: TLC, Instagram)