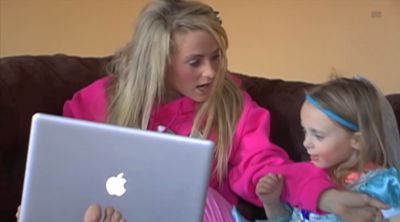 Yesterday was Christmas so most of us took the day off to drink eggnog (just kidding– no one drinks that stuff in real life) and be with our families. However, Teen Mom 2 star Leah Calvert must have finished her festivities early, because she hit the Internet around midnight last night to clear up some of the latest rumors circulating about her, and reveal a shocking revelation about what's to come.
As The Ashley reported earlier this week, In Touch Weekly posted a story claiming that Leah had taken $50,000 from a trust fund meant for her daughter Ali. In her Christmas night Facebook post, Leah attempted to explain where the funds went.
"[As for] the article of me taking money from my children…The funny thing about it is… The money that was given to my kids is not in the account they're saying it was "stolen" from… Have you ever heard of CDs at a bank?"
Leah also discussed an incident from last week in which she ranted about a Facebook page that she believed her ex-husband Corey Simms and his family were posting negative stories about her on. (The Simms clan maintains they are not associated with the page.) During the rant, she insinuated that she knows that Corey and his new wife Miranda are having trouble in their marriage.
"I was simply saying that because they shouldn't act all perfect and put someone else's marriage on blast by false accusations," Leah wrote in the Christmas rant. "No one's marriage is perfect and I actually know facts to how theirs isn't so it's definitely not right for them to allow such things being said or posted if they wouldn't want me to defend myself. Corey is a great father and I respect him for that but any of them trying to bring me down or downgrade me only looks horrible to those that know facts about more than anyone on any page out here."
Leah made it clear that she believes Corey or someone associated with him was responsible for selling the story about her taking the money to In Touch Weekly.
"I'm doing my best at being as nice as I can be and as PATIENT as I can be for soon it will be my time to speak to everyone and they will see," Leah wrote. "I will not need a 'close source' etc or even an attorney to do it for me. I have no reason to downgrade anyone but just to speak the TRUTH rather I look bad or I don't look bad."
In a later comment on that same post, Leah revealed what she meant by her 'time to speak' coming soon.
"Each and everyone out there will learn a lot by reading my book that will be coming when the time Is right," she wrote.
Leah seems to be planning (or is already writing) a tell-all book, following the lead of fellow 'Teen Mom' stars Farrah Abraham, Kail Lowry and Amber Portwood. This is the first time Leah has every mentioned that she is writing a book, so there are no other details available. However, you can bet your bottom banjo that The Ashley will be the first one in line at the Wal-Mart to fetch a copy, should it ever be released!
Click here to read Leah's full Facebook rant from last night!