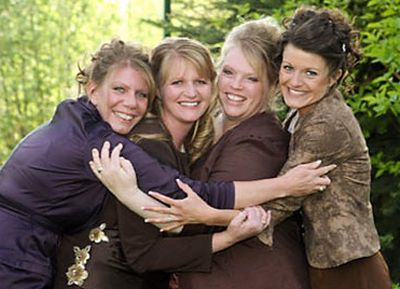 The Ashley is happy to bring you the winter 2015 premiere dates of all of the reality TV shows we love! We will have a fresh batch of reality goodness to keep us entertained during the cold months! From Chris Soules (aka "Prince Farming") splish-splashin' in the hot tub with farm girls on The Bachelor, to Kody Brown finally revealing if he did, indeed, sperminate his fourth wife, Robyn, again, it will all play out in the first few months of 2015!
While there are plenty of premiere date lists on the Internet, The Ashley limits her list to only reality shows. (Who wants to watch TV with redeeming value anyway?) The Ashley will continue to update this list of premiere dates as new dates are released.
Which of these shows are you most excited about?
16 and Pregnant (Season 5 Update Show) (MTV)  Sunday, Jan 4  (Click here for all the exclusive details on the special!)
19 Kids and Counting   (TLC)   Tuesday, Feb 17
Alaskan Bush People   (Discovery)   Friday, Jan 2
Amazing Race   (CBS)   Wednesday, Feb 25
American Idol   (FOX)  Wednesday, Jan 7
Bachelor   (ABC)   Monday, Jan 5  (Click here to get more info on this cheese-filled season!)
Beverly Hills Pawn   (Reelz)   Saturday, Jan 17
Celebrity Apprentice   (NBC)   Sunday, Jan 4
The Challenge: Battle of the Exes II   (MTV)   Tuesday, Jan 6  (Click here to see the cast and trailer!)
Dance Moms   (Lifetime)   Tuesday, January 6
Duck Dynasty   (A&E)   Wednesday, Jan 7
Face Off   (SyFy)   Tuesday, Jan 13
Hell's Kitchen   (FOX)   Tuesday, March 3
Little Women: LA   (Lifetime)   Thursday, Jan 1
Love It Or List It   (HGTV)   Monday, Jan 5
Marriage Boot Camp: Reality Stars   (WE)   Friday, Jan 9
Married at First Sight: The First Year   (FYI)   Tuesday, Jan 13
MasterChef Junior   (FOX)   Tuesday, Jan 6  (Click here to meet all the kids!)
My Big Redneck Family   (CMT)   Saturday, Jan 17
My Husband's Not Gay Special   (TLC)   Sunday, Jan 11  (Click here for more info!)
Preacher's Daughters   (Lifetime)   Friday, Jan 23
Property Brothers   (HGTV)   Monday, Jan 5
Rev Run's Renovations   (DIY)   Saturday, Jan 3
Sister Wives   (TLC)   Sunday, Jan 4  (Click here for more info on the new season!)
Survivor   (CBS)   Wednesday, Feb 25
Teen Mom   (MTV)   January 2015-rumored  (Click here to see what the girls have been up to!)
Undercover Boss   (CBS)   Friday, Jan 2
Who Do You Think You Are?   (TLC)   Tuesday, Feb 24
(Photo: TLC)