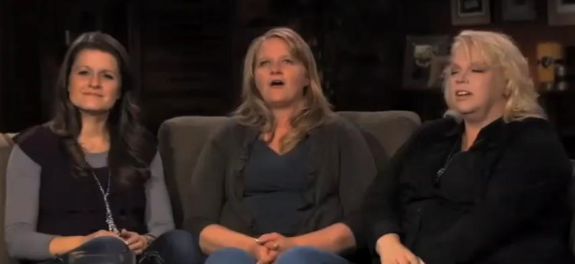 Will there be a new wife added to the Brown family when the sixth season of Sister Wives premieres next month? After watching a new sneak peek clip of the new season, it sure seems like Meri Brown, the first wife of family patriarch Kody, is hoping that will be the case.
As for Kody and his other three wives—Janelle, Christine and Robyn? They think Meri and her match-making need to be stopped—pronto!
In the clip, Meri appears to be smitten with a woman named Natalie. No, friends, Meri is not turning to the same sex. She actually has her eye on Natalie for her husband, Kody. She tells her husband that she thinks Natalie is cute, implying that perhaps he should feel the same way. When Meri's sister wives get a glimpse of the clip, it seems to give them a serious case of déjà vu.
"Oh my laws, again!?" Christine yells. "She has got to be reigned in! That woman's insane!"
As 'Sister Wives' fans may remember, Meri was the driving force behind Kody hooking up with his fourth wife, Robyn. Clearly, her sister wives aren't looking for a repeat of the situation.
"I'm really glad she got you and everything," Christine told Robyn. "But she needs to be done bringing in those women!"
(During this entire exchange, second wife Janelle just sits silently, with an obvious look of hate for all those involved on her face.)
Kody agrees that Natalie is cute, but wants to know what Meri has in mind.
"It was like a flashback—like, wait a second! That's what you said about Robyn," Kody said, adding that Meri needs to cool it with trying to get him to get his freak on with other women.
"This is not an option and you need to stop being open in this way," he tells Meri.
Finally, Janelle speaks out about Meri's constant match-making.
"I think she sees someone that she really wants to get to know and in her mind she automatically jumps to sister wife," Janelle said. (Um…Meri does know that she can be friends with other women, even if they aren't boning her husband, right?)
Meri assured Kody that she wasn't serious about bringing Natalie into the family, and Kody makes it clear that he's not interested in taking on another wife (and another house…and another wet bar.)
"This is not an open marriage!" he said. "I'm honestly not open to anyone else being in the family."
See it all go down when 'Sister Wives' Season 6 premieres on Sunday, January 4. Click here to get more info on what else will happen this season!
Watch the full clip here: