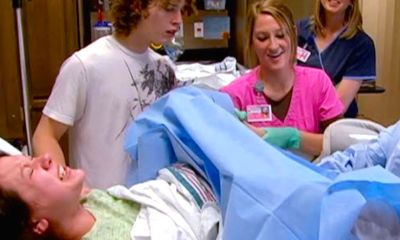 By Holly Rasmussen
Earlier this year, The Ashley told you that MTV is bringing back their wildly popular show, 16 and Pregnant, for a sixth season, and now we have confirmation from the network. Earlier this month, MTV posted a casting notice to its website, announcing that it's currently seeking girls to be featured on Season 6.
Since its inception six years ago, the series has become a huge hit. It has chronicled the lives of 59 teenage mothers and brought the spin-offs Teen Mom, Teen Mom 2 and the short-lived Teen Mom 3.
The show has faced its fair share of controversy. While studies show that teen pregnancy has actually been decreasing since the show started airing, there are detractors that say '16 and Pregnant' glorifies teen pregnancy. After all, the show doesn't follow the girls for very long after their babies are born, so we don't get to really see the hardships a teen mother faces.
MTV may be addressing some of these issues on the upcoming season of '16 and Pregnant,' however. While The Ashley hasn't been able to confirm it yet, Teen Mom Junkies reports that MTV is planning on filming the Season 6 girls for a longer period of time than it did with the girls of previous seasons. Before, the girls were only filmed for a five-month period at the most. Now, it seems the girls may be filmed for nine months or longer.
The site also reports that MTV is teaming up with hospitals around the country to find girls for the show that are in more dire situations than ever before. This means we may get to see girls who are in completely unique situations. (Although last season had a homeless girl and several girls with mothers who were addicts–how much dire can things get?)
According to the casting notice:
"Our goal is to give viewers a look inside the realities of teen pregnancy — from morning sickness and balancing school responsibilities to navigating incredibly difficult decisions and relationships with boyfriends and/or parents, ultimately to the day of the baby's arrival and beyond."
Get ready kids, another season of baby daddy drama, algebra, baby bottles and prom is on the way!
Note from The Ashley: In the past, girls that are hoping to be cast on the show have commented on this site, telling very personal stories and leaving their contact info. PLEASE DO NOT DO THAT! Not only is that very unsafe, but The Ashley has NOTHING to do with the casting of this show. (The Ashley does her best to delete many of these comments, for the poster's own safety.)
If you are interested in being on the sixth season of '16 and Pregnant,' MTV asks that you email 16andPregnantCasting@mtv.com. (Include the city and state you live in, your contact details, a picture and the reason why you'd like to share your story.)
Again, please do not submit your casting requests in the comment of this story!