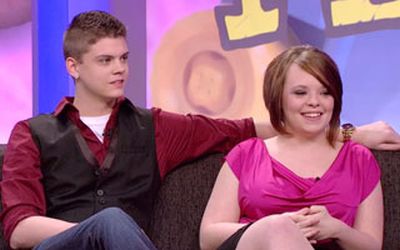 UPDATE: According to Catelynn's father, David, Catelynn has given birth to her baby girl! The baby was born at 3:15 p.m. today!
Teen Mom star Catelynn Lowell certainly found a unique way to welcome in 2015: by going into labor!
"We are having a baby RIGHT NOW!!!" Catelynn's mother, April, posted on her Facebook on January 1.
Catelynn and her fiance, Tyler Baltierra, also informed their fans that their daughter is making her way into the world today.
"IT'S BABY TIME! I think she's gonna be a new years baby! Pray for safe delivery," Tyler tweeted this morning.
Tyler and Catelynn named their new daughter Nova Reign. She weighed in at 6 lbs., 12 ounces and measured 19.5 inches, according to MTV.
This is the second child for Catelynn and Tyler. Their first daughter, Carly, was born in May 2009, and was placed for adoption.
Seeing Catelynn in labor apparently made Tyler reflect on the day Carly was born. He posted a photo of himself holding Carly to his Instagram account today, along with a sweet caption.
"IT'S HAPPENING! Here we go, doing this all over again," he wrote. "This is surreal, I'm freakin out a little lol but can't wait to meet my little angel! Thinking a lot about Carly right now. It's bringing me back. Even though I know this time I will actually be taking her home. I love my girls! #CantWait #Nervous #Excited #Scared #Happy"
This will not be the only 'Teen Mom' tot making its way into the world in 2015. As The Ashley told you earlier this week, Catelynn and Tyler's 'Teen Mom' co-star, Maci Bookout, is also pregnant! Filming for 'Teen Mom' Season 5 has been basically complete for a little while now; however, it's almost certain that MTV will capture some footage of Catelynn's birth to show on the new season, since much of Season 5 will center around Catelynn's pregnancy. (Her shower was filmed by MTV for Season 5. Click here to see photos!)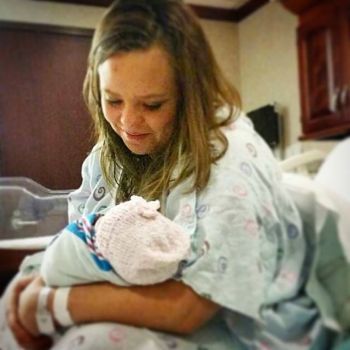 On Wednesday night, Tyler posted a photo to his Instagram of Catelynn holding baby Nova.
"Momma Bear holding our little angel! Can't tell you the feeling of witnessing this. Look at my beautiful bride to be! That woman is beyond strong, caring, and selfless. Couldn't have asked for a better little family #Blessed #NewYearBaby #MyGirls #AreMyWorld"
Congrats to Tyler and Catelynn!
(Photo: MTV)