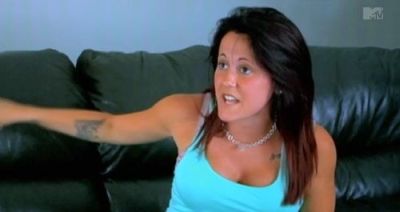 Teen Mom 2 star Jenelle Evans just spent a week under the sun in St. Thomas, and something that happened there has gotten the reality star into some hot water. As The Ashley reported last week, Jenelle and her baby's father, Nathan Griffith, got engaged while on the trip and, while that caused quite a lot of controversy (Ugh), it is not the engagement that has made the show's fans angry.
Today, a woman named Candy Hennessy, who went on the St. Thomas trip with Jenelle, Nathan, Nathan's brother and his girlfriend, uploaded a shocking video to YouTube. In the video, Jenelle is heard screaming some horrible things at Nathan's brother, a soldier who spent time serving overseas.
In the video, Jenelle can clearly be heard telling Nathan's brother that she wishes he had died while overseas.  Nathan (a former Marine himself) can be seen sitting with his head in his hands while his fiance and brother bicker. Candy's boyfriend, also a vet, mentions that he did have a friend that died in combat right in front of him, but that did not deter Jenelle.
"I would have hoped you would have died in combat," Jenelle appears to be saying in the video. When a girl (possibly Candy) tells her that she shouldn't be talking about someone dying in combat like that, Jenelle continues.
"I wish he f**king died," she says, before adding, "I heard your best friend got killed in the war, guess what?"
Before Jenelle is able to finish the sentence, everyone in the room jumps up to keep the guy from lunging at Jenelle.
To defend herself, Jenelle tweeted that Candy only uploaded one part of the video. She also later apologized.
On her Instagram account, Jenelle posted a text that claims she was set up by Candy and some of the other people present that night.
The show's viewers were not impressed with the apology. In fact, they quickly pounced on Jenelle (via Twitter) and told her what they thought of her comments.
"No amount of sorry can ever make up for this. #SupportMyVets," one commenter wrote.
"U can't defend this," another wrote. "I am so mad at her. She has no respect for military and the men who died I'm crying my eyes out."
In other posts to Instagram, Candy claimed that Nathan and Jenelle spent most of their vacation arguing (with Nathan even asking for his engagement ring back once!)
While MTV was there to capture Jenelle and Nathan's engagement, they were not present the night that this video was recorded, therefore it will not be on 'Teen Mom 2.'
After the video was uploaded online, Radar Online posted a story that claimed to provide more details as to what caused Jenelle's outburst. (Take this report with a grain of salt, however, as it is well-known that Jenelle and Nathan often work with Radar, so the site's report may be biased toward Jenelle.)
Watch the video in question here. (Be aware that it does contain some naughty language so…make sure not to watch it at full volume if you're at your desk at work!)