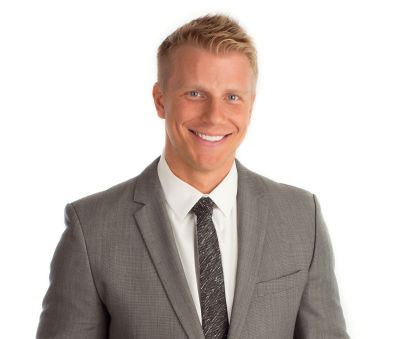 Chris Soules is currently in the middle of his "journey to find love" on The Bachelor. Watching his season has left us viewers with many questions about how the show works. Luckily, former 'Bachelor' star Sean Lowe has been gracious enough to answer some of The Ashley's questions about his time on the show!
As you'll probably remember, Sean fell in love with Catherine Giudici and they married in a nationally-televised fairytale a year ago today. But this is just the beginning for the newlyweds.
In his new autobiography, For The Right Reasons, Sean tells all about the backstage drama that fuels 'The Bachelor' and 'The Bachelorette,' how he overcame heartbreak to find his true love, and the personal struggles and Christian faith that have made him the man he is today.
Do you still watch The Bachelor?
Sean Lowe: I do! I actually love live tweeting during 'The Bachelor.' One of the benefits of going through the whole experience is that now I can make fun of everybody on the show, which is awesome and I think people love it! They know it's light-hearted and can be pretty cheesy. I'll be the first one to admit that. I love pointing out the cheesiness, all the clichés, and everything like that!
It's just a lot of fun, and of course, I have fond memories every time I watch the show. Catherine and I do watch it every Monday. Before I was on 'The Bachelor,' I'd seen it several times but didn't watch it consistently. Now it's a different story.
What advice would you give Chris on the current season?
Sean Lowe: Look past the exotic dates and the beautiful destinations and really look at the girl that you're with. Ask yourself, "Can I do everyday a normal life with her?" Or in his case, "Can I see her living with me on the farm in Iowa?"
I think it's really easy for a lot of bachelors to fall into a trap. It's easy to get infatuated with a girl that doesn't really align with your life or what you want in a wife. I would just say look past all of the external stuff. Look into the woman's heart and ask yourself if she's right for you.
Was there any one thing that you refused to do on the show?
Sean Lowe: There are times when the producers want the show to be kind of sexy and steamy, and there were a couple of instances where I felt like it would have been a little too provocative. That was certainly not what I wanted to show on TV.
So, of course, I had a to say 'no' a few times to the producers, but we really had a great relationship. They respected me and never fought me on it. They weren't afraid to take no for an answer and move on with the show. I really respected them for that!
Learn more about Sean's new autobiography: For The Right Reasons, America's Favorite Bachelor on Faith, Love, Marriage and Why Nice Guys Finish First here.