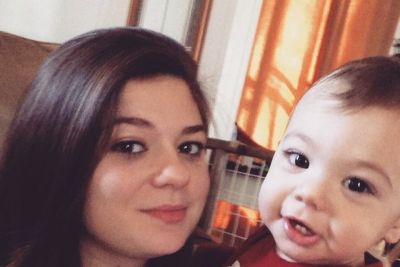 A 16 and Pregnant Season 5 star is reaching out to the show's fans in hopes that they will be able to help her family get through a rough time.
Autumn Crittendon, who starred on the most-recent season of the show, set up a GoFundMe.com page to help raise money to improve the dire living conditions she, as well as her son Drake and the rest of her family, have been living in recently. On the page, Autumn explained that they are currently living in a home with no heat, a leaky roof and other damage.
"I'm trying to raise money to help my family and I afford a heating/Cooling unit," Autumn wrote. "The cost for a brand new unit is approximately $2000 and around $1000 to put it in. We are having a hard time paying bills and making ends meet and now we found out that the unit is broken. We cannot afford to have a new one put in."
Autumn went on to explain that her family—which includes her sister Misty, who is also a teen mom—is going through really hard times.
"My family and I are having a lot of financial problems," Autumn wrote. "If we didn't need the help we would not be asking for it…We just want to make our house as safe as possible for Drake."
Autumn, who lives in Virginia, wrote that she is currently trying to warm her very cold house with a small space heater. However, with a blizzard set to hit the East Coast of the United States this evening, that will probably not do much good in warming the house.
After Autumn posted the link to the fundraising page on her Facebook fan page, some people commented that she should use the money she earned from doing  '16 and Pregnant' to fix the heater. (The Ashley must interject here—the girls that are featured on '16 and Pregnant' do not receive any money after their one-time payment immediately after the show airs. That's it—they do not get residuals or any other money for doing the show. The amount is trivial, especially compared to what the 'Teen Mom' franchise girls make.)
The admin of Autumn's Facebook fan page responded to the commenters in a recent post.
"For those saying get a job, they have one but the AC unit replacement is a little pricey! They would not ask for help if they didn't really need it. It's sad that you all can simply post rude comments about her asking for help. She may have been on TV but I can promise you she didn't make anywhere near the amount you all think she did and that was last year."
So far, Autumn has raised very little of the $3,500 she needs to fix her heat.
(Photo: GoFundMe.com)