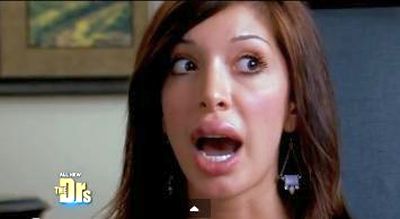 Nothing can stop Farrah Abraham's quest for plastic perfection–not even a doctor's warning or a recent surgery gone terribly wrong!
The former Teen Mom star appeared on The Doctors earlier this week to discuss her great big ol' "lip-tastophry." (You'll probably remember that a few weeks ago Farrah's lips swelled to frightening proportions after she had an allergic reaction to a product used during a plastic surgery procedure on her lips. There's no doubt that the images of her with her "Simpsons"-eque lips still haunt your nightmares.)
Anyway, Farrah explained what went wrong during the procedure, and then laid a bombshell on the panel of doctors on the show: She announced that she is considering even more plastic surgery! In fact, she has not even ruled out a re-do of the lip implantation procedure that went horribly wrong.
"It was a wakeup call, and I'm just super happy that I'm alive. I do need to do more research and maybe I'm not ever going to be doing that ever again," she said.
Um….maybe?!
"I've had breast augmentations, twice," Farrah told The Doctors. "I've had fillers in my cheeks and my lips, and I've also had a chin implant. I've had rhinoplasty. My lower lip has always been larger than my other lip so I like to make them symmetrical and from time to time I do add filler."
She explained what happened during the botched procedure.
"As soon as [the surgeon] touched my lip with whatever numbing product he was putting in there, my lip was having an allergic reaction right away," Farrah said. "I had never felt that sensation in my head before, but I was also scared. I was laying down flat but I was seeing more of my lip, like, coming up. Then, [the doctor] was like, 'Wow, this is really swelling up. I don't think I can even get the lip implant in there.'
"It was definitely like, 'What did you just do to my lip? You're ruining my face,'" she said. "And that's when he suggested [going to] the ER."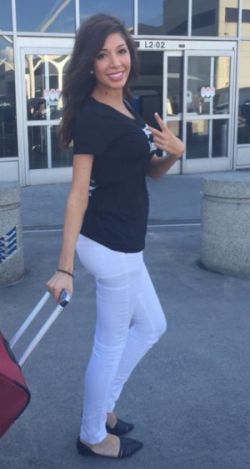 Farrah explained that it was likely a preservative that the surgeon mixed with the numbing agent that caused her body to react that way. Still, Farrah is not shying away from more plastic surgeries in the future, despite the fact that the show's plastic surgeon, Dr. Andrew Ordon, told her not to do anything to her lips (or anywhere else) for a very long time.
She mentioned that she is currently considering getting butt implants!
"I am [thinking about getting it done]," Farrah told Dr. Rachael Ross, who also encouraged her to stop having plastic surgery. "I'm more, like, in the research stage. I don't want anything that's creating more problems, and some of it sounds like it may. Walking a lot of hills, that's what I'm trying to do right now. I have no fat on my body."
For those of you who want to remember Farrah's butt in its natural state, you can always buy one of these.
Watch Farrah's full interview with The Doctors below: