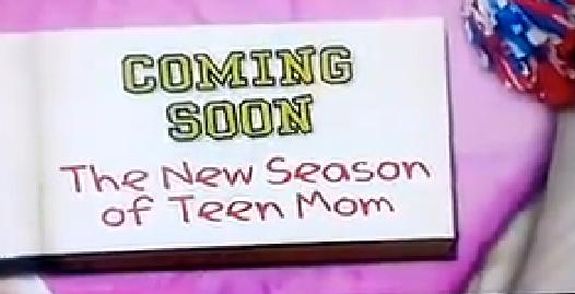 It's almost time to say hello (again) to the girls of Teen Mom! MTV has released a sneak-peek trailer of the upcoming fifth season of 'Teen Mom' starring Amber Portwood, Maci Bookout and Catelynn Lowell. (UPDATE: Farrah Abraham (and her back door) have been added for Season 5! Click here for details!)
In the video preview (which originally aired during the recent "Ask the Moms" special, we see that this season of the show will be unlike any other before it. This season was shot in a similar manner to the "Being___" specials that aired last year, meaning that the girls acknowledge the camera crews and the fact that they are filming the show. (In previous seasons, it was never discussed that the girls were full-fledged reality stars.)
Topics that will be covered in the new season include Maci's relationship with her boyfriend (and future baby-daddy) Taylor McKinney, Catelynn's second pregnancy, Gary Shirley's struggle to figure out where Amber fits into his life, now that he's in a serious relationship with another woman, and Tyler's reluctance to marry Catelynn before the baby comes.
Although there have been many reports as to when Season 5 will air, but The Ashley has not confirmed any of them. According to the blog Wrapped Up with Reality, 'Teen Mom' will be premiering the second or third week of February, but it seems that even MTV does not know when the show will air. The Ashley went straight to a representative for MTV, who told her exclusively:
"We haven't  confirmed or announced a premiere date yet so we have no information to share with at this time."
The Ashley will be sure to inform y'all when she gets word of an official premiere date!
Watch the sneak peek below! Special thanks to Roundup friend Christina for sharing this video with The Ashley: