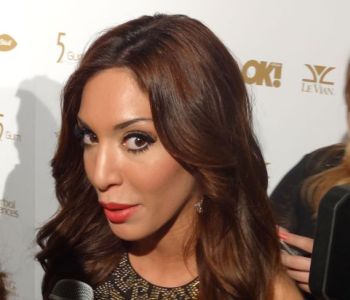 Last month, The Ashley told you that Farrah Abraham was in contact with Teen Mom producers and was trying to get her job back on the show, which she lost due to, well, opening her "back door" on camera. Although Farrah denied that the reports were true, The Ashley's sources told her that they were not only true, but that the producers were likely to give in and let Farrah back on 'Teen Mom.'
Well…it appears that Farrah has gotten her way. MTV announced today that Farrah will return to the show. In fact, she will actually be on Season 5, which is likely the reason that the premiere date keeps getting pushed back. While Farrah thinks that everyone will be thrilled to see her ugly-cry-face back on 'Teen Mom,' that's not exactly the case.
The show's creator, Lauren Dolgen, confirmed to Us Weekly that the show's other stars– Catelynn Lowell, Maci Bookout and Amber Portwood–aren't thrilled with the news. In fact, we will get to hear their opinions about it during the course of the season.
"[They] know that she's coming back," Lauren told the magazine, "and it did create a little bit of controversy that will play out in the series."
The girls (and their male counterparts) have remained silent on social media regarding the addition of Farrah. However, Farrah seems to think that everyone will be very excited to see her on the show.
"There's going to be lots of excitement from the 'Teen Mom' fans and MTV's fan base as well, so I'm excited to be back!" she told Us Weekly.
Lauren Dolgen said that the change was more about logistics than Farrah herself.
"There is something about having that fourth story to counterbalance — there's just a magic to four stories and four different points of view," she said.
The Ashley finds it hilarious that Farrah is coming back, especially since, just months ago, she was bashing the other girls for signing on.
"Some of the moms on the show still need that," Farrah said in August of 'Teen Mom' fame. "Fortunately for me, I have other ways of making money. I can't keep doing the same things year after year."
Farrah and her family have already started filming her segments. On January 12, her father, Michael Abraham, posted on his Facebook that he and his family were filming something that would blow Farrah's "haters" away.
"A few meetings and yes 'working' with my girls and Debra. It will be a happy surprise for our fans and a joke on all our "haters" ….. Stay tuned," Michael wrote.
The bad news is that we will have to endure Farrah's segments on 'Teen Mom.' The good news is that The Ashley will get to recap them!
As The Ashley told you yesterday, no premiere date has been set for 'Teen Mom' Season 5.
MTV declined to comment on this story.