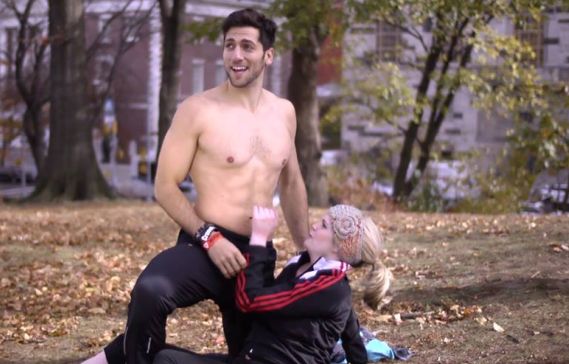 By Holly Rasmussen
Kenny Santucci of MTV's The Challenge has gotten his big break! The former reality star (who made his debut on the 12th season of the Real World/Road Rules Challenge) has been acting and hosting for the past several years. However, this will be his first multi-occurring comedic acting role on a SAG original comedy. The show is called "Rules of Cool" and follows two 20-something girls around New York City while they try to figure out life and how to be one of the "cool kids."
Kenny, known as "Mr. Beautiful" on reality television, plays a meathead love interest on the new show. (That's not too much of a stretch…) The series launched on YouTube on January 27, but the production company, AKA Studio Productions, is currently in talks with several major production companies to expand upon the series to fit network television. The series stars comedic actors Lacey Jeka and Caitlin Cooke.
In addition to doing acting and reality TV gigs, Kenny also has a "real job." He owns and runs a gym in New Jersey.
Kenny was a regular on 'The Challenge' until about 2011. Many of the show's viewers have wondered if Kenny will ever return to the reality show, but it appears that he's focusing on other endeavors right now.
"I'm enjoying expanding on my acting/hosting career as well running my CrossFit gym," Kenny said in a statement to The Ashley.
He has continued to work with MTV since his last 'Challenge' appearance, hosting several shows and specials for the network in recent years.
Check Kenny out on his new show at rulesofcoolseries.com.
(Photo: Facebook.com/rulesofcool)