Leah Calvert and her husband are still happy and in love, y'all!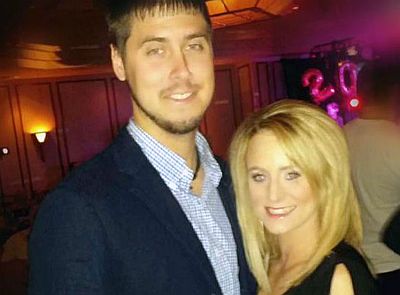 At least, that's what the Teen Mom 2 star has been trying to prove ever since October, when her husband publicly called her out on Twitter for having an affair with her old flame, Robbie Kidd. (Leah has always denied the affair occurred, although Robbie eventually confirmed that it did take place.) By that time, Jeremy has changed his Facebook status to "Divorced" and had erased all traces of Leah from his Twitter account.
Since that time, Leah has been trying to prove to her fans that she and Jeremy are back together and happy. Earlier today, she posted a screenshot of her personal Facebook status (which is inaccessible to fans), as well as a screenshot of a text that's appears to be from Jeremy, to her official Facebook fan page.
The only problem? Jeremy has yet to publicly confirm that he is back with his wife. In fact, his Facebook status remains as "It's complicated," despite the fact that Leah has changed hers to "Married" and continues to gush about how great their marriage is.
In the text posted, Jeremy remembers the day their daughter Addy was born (today is her birthday), and then proceeds to tell Leah how much he loves her.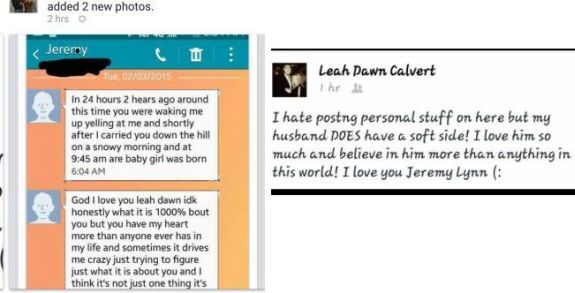 From the looks of what Leah's been posting lately, it seems promising that Leah and Jeremy have worked out their many, many relationship issues.While some of the comments left under the post on Facebook were positive, most fans seemed to get the impression that Leah was trying a little too hard to convince everyone that she and Jeremy were doing well.
"Wow, still trying to justify your relationship to the public……………….ok," one wrote.
"Really sad u just keep posting stuff trying to prove u r together," another wrote.
Back when Jeremy found out about Leah's (alleged) affair with Robbie, a source told The Ashley that Jeremy had sworn off doing any more season of 'Teen Mom 2' and just wanted to be left alone. According to someone close to the show's production, Jeremy had a change of heart, and DID sign on for 'Teen Mom 2' Season 6. However, that does not mean much, except that he will be payed to be featured on the show.
The Ashley (and many other fans of the show) are dying to know what Jeremy's little "torn piece of paper" thing will say: Will it say "Leah's husband," "Leah's ex" or just simply "Who the hell knows?"
(Photos: Facebook)