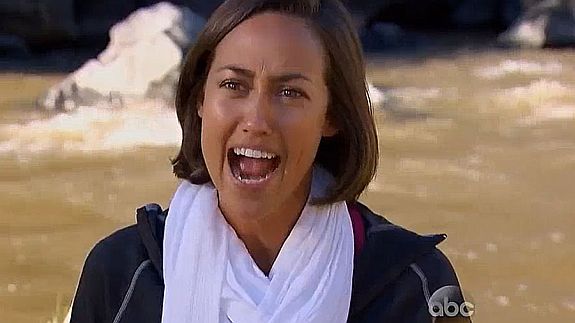 Monday night's episode of The Bachelor had the show's fans blowing up social media, after contestant Kelsey Poe turned "psycho" as one Twitter user called her. Kelsey, who, up until this point had been portrayed as the sarcastic girl that was always good for a laugh when it came to making fun of the other girls, had her image completely changed on Monday's episode. After she decided to tell 'Bachelor' Chris Soules about the death of her husband, (and called the story "amazing), Kelsey appeared to change, causing the show's fans to think she had gone crazy, or even made up the story about her late husband.
"Convinced Kelsey Poe is a crazy psycho who killed her late husband for the money," one Twitter user wrote.
After the episode aired on Monday night, Kelsey defended herself via social media. Kelsey's sister also jumped in to express her disappointment about how Kelsey was edited to look crazy.
In a series of tweets, Kelsey explained that sharing her story on the show was not exploiting her husband, Sanderson Poe's, death, and that the negative attention has really hurt her. (Just to clarify, Sanderson was, indeed, real, and did, indeed, pass away suddenly in 2013.)
"We all have our pains and tragedies. Please don't make them worse," Kelsey tweeted. "Sander's death was absolutely devastating, but finding a way to live through it and my strength to survive is amazing. Insinuating that I would dishonor my husband is ripping the scab off an unhealed wound. The pain is tortuous."
Kelsey's sister Taylor took to Facebook to rip ABC and the show's producers for doing such a disservice to Kelsey with their editing.
"I am truly disappointed in the footage that ABC decided to air and the way it showed no sensitivity to Kelsey and Sanderson," Taylor wrote in a lengthy post. "The footage you saw where Kelsey said, 'Isn't my story amazing?' was in regards to her story of how she overcame such horrific grief. In no way was Sanderson's death amazing. It is amazing that Kelsey found the strength to seize each day, travel the world by herself, meet new people and take on new hobbies. She chose to take on each day rather than stay in bed crying; that takes a strong person to do that."
Kelsey's sister went on.
"I am disgusted by the way Kelsey was portrayed on the show and the comments/messages people are sending," she wrote. "Only bits and pieces of her story and footage have been shown…My heart hurts for my older sister. She is truly as sweet and caring as her friends and family claim she is… it's unfortunate that ABC viewers don't get the opportunity to see that."
Kelsey has documented her story on her blog, but had to take it down until her season of 'The Bachelor' has finished airing.
Here's The Ashley's take on it: The editors of 'The Bachelor' (and basically every other reality TV show ever produced) cut and paste quotes and events together to create a more interesting storyline. The editors have the ability to cast a person as a villain (or a hero) via editing, and most of the viewing audience will not even notice, but will eventually feel a certain way toward that person. Unfortunately for the contestants, this can sometimes result in being edited unfavorably. The producers saw an opportunity to capitalize on Kelsey's meltdown and they did, by editing the previous footage so that there was a "crazy" build-up. It's unfortunate, yet common.
Stay tuned for The Ashley's recap of Monday night's episode of 'The Bachelor!'