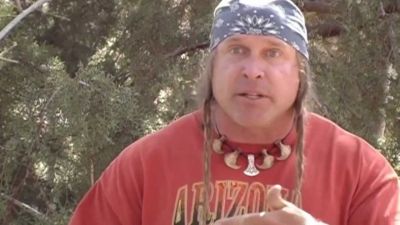 It's been almost a year since Cody Lundin was fired from Discovery Channel's Dual Survival. Back in February 2014, Cody took to his Facebook page to let his fans know that he and the network had parted ways over "differences over safety and health concerns on the show" and that he had not "quit" as network press releases sent out at the time implied, but rather he was fired.
Last week, Cody once again used his Facebook page to share his views on the recent wave of "survival" shows being put out by Discovery and other TV networks. The barefooted survival expert, who continues to teach aboriginal living skills, blasted Discovery for its "out of context, phony survival programming" and for putting lives at risk.
"[This type of programming] creates unnecessary risks for millions of viewers, and the result can and has killed people," Cody wrote. "Unfortunately, this trend continues with 'Dual Survival' and other survival programming."
Cody's former partner on the show, Joe Teti, continues to appear, alongside Matt Graham, the survivalist that replaced Cody during Season 4.
In his lengthy post, Cody called out his former employer for hiring actors to portray scientists on its shows. (He did not, however, provide examples of times when this has happened.)
"No one is more culpable for 'creating' survival experts from people who are not than Discovery Channel," Cody wrote. "The media in general fails to recognize that survival training deals with life and death situations for actual people. It is not a ratings game. The viewing audience, whether they realize it or not, are training when they watch survival programming on TV…This imagery is the first information that the brain will access to be utilized by the survivor. If this imagery is based upon wrong information, very bad things can happen to the survivor."
(Just for the record—if The Ashley should ever find herself stranded in one of the God-forsaken places the stars of this show go to, she isn't taking off her shoes!)
Anyway, Cody did credit new Discovery Channel president Rich Ross for admitting that the network has "betrayed its original mission." (While The Ashley can't be sure, she believes that Cody is referring to this discussion that took place during the Television Critics Association Winter Press Tour last month, at a panel The Ashley attended.)
Cody finished his rant by stating that, despite his feud with Discovery Channel last year, he wishes well for the network.
"As grossly unprofessional as my treatment was from the network and Original Media in their defamatory attempt to explain my absence from 'Dual Survival,' I do hope they get back to the quality programming that earned them the respect and credibility they once had."
(Photo: Discovery)