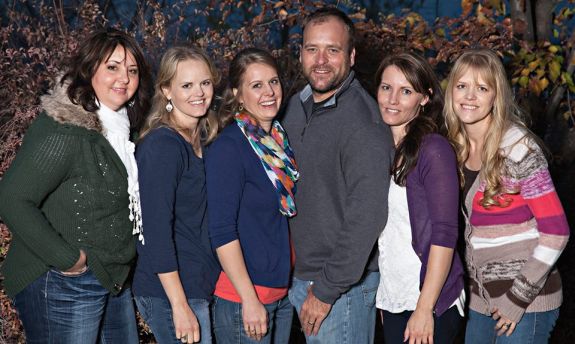 TLC is cutting the fat in its "polygamy" programming.
In a video posted to YouTube last night, My Five Wives star Brady Williams announced that his family's reality show has been cancelled and will not have a third season.
The entire family was shown seated in the family's living room. To start the video, Williams family patriarch Brady Williams introduced himself and his family. (Well, kind of…he just called them "Brady and wives." That's gotta make the women feel special, eh?)
Anyway, after thanking fans for supporting the show over the last two seasons, Brady dropped the big news.
"It turns out TLC, as great as they've been, has decided not to keep going with 'My Five Wives,'" he told the camera. "So we've decided, being loyal back to you, to keep our own YouTube channel going. We'll have weekly, maybe even bi-weekly updates, and we're going to have lots of crazy fun just like we've always had."
The news that TLC was dropping the show must have been a surprise to the Williams gang. After all, the family certainly had enough going on to create an interesting third season. Brady's fourth wife Nonie is currently pregnant with Brady's 25th child, and the family recently filed for bankruptcy. Unfortunately, 'My Five Wives' fans won't get to see those topics play out, at least on TV anyway.
The best part of this video, hands down, though, is how everyone but Brady looks completely miserable. The wives and the kids all look like they were just sentenced to a lifetime in prison.
It's no surprise that the Williams are disappointed that their show didn't do as well as that other polygamist family show on TLC, Sister Wives. Now in its fifth season, 'Sister Wives' still maintains good ratings and given the GIANT scandal that just broke involving the Brown family, it will no doubt continue to snag heaps of viewers.
Watch the Williams' family video below: