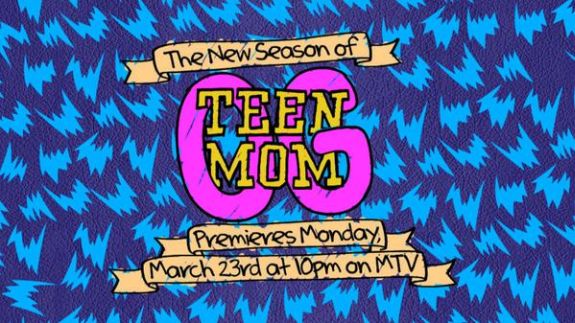 Get ready, Teen Mom fans! Maci Bookout, Amber Portwood, Catelynn Lowell and, now, Farrah Abraham are coming back very soon. In fact, we will be seeing those familiar faces back on our TVs next month!
The network, along with the show's stars, announced on Thursday that the fifth season of 'Teen Mom' will premiere on Monday, March 23 at 10 p.m. on MTV!
MTV has also supplied a sneak peak of each girl's episodes, which The Ashley has posted (and summarized for those of you that can't watch the videos).
From the sneak peeks, we fans can immediately notice some of the changes that Season 5 will bring. Not only have the show's graphics been updated (so long little "torn piece of paper thing"), but the producers and camera crew have been incorporated into the scenes.
Take a look at the four sneak peeks of the new season!
UPDATE: If you are in Canada, click here to watch the previews! 'Teen Mom' will start on March 23 for you guys as well.
If you outside the U.S. or Canada, click here to watch Maci's preview and here to watch Farrah's. (Viewing may not be available in all countries, but it should be in most!)
Maci Bookout:
In Maci's sneak peek, we see that she and Ryan are still having issues getting along. Ryan (who at the time was with his old girlfriend Shelby Woods) and Maci (who is with her boyfriend Taylor McKinney) are attempting to meet up to exchange Bentley, but Ryan is 40 minutes late (and chewing on some sort of popsicle like a damn cow). When Maci gets tired of waiting and leaves, Ryan calls her a "dumbass" and hangs up on her.
(If you are in Canada, or outside North America, click here to watch Maci's preview!)
Amber Portwood
Amber's sneak peek starts off in about October (judging by the pumpkins on her porch). Her ex, Gary Shirley, comes to Amber's house and Amber tells him that she's tired of him calling her crying, or calling her to talk about his penis (UM!?) or them getting married. She asks him to stop calling her about anything other than their daughter Leah, because, well he is living and having a baby with another girl. Amber eventually gets angry and throws Gary out of her house. (Aww, how we've missed this!)
Catelynn Lowell
Catelynn's sneak peek takes place at her baby's gender reveal party. Catelynn's fiance Tyler Baltierra is talking about how much he wants a boy, as a show producer named Madeline brings a pinata filled with gender-colored candies. Before the pinata is broken, Catelynn tells her family not to comment on the gender if they are contacted by any magazines. When it's revealed that the baby is a girl, Tyler can't hide his disappointment.
"I'll get excited as time goes on," he tells Catelynn.
Farrah Abraham
Farrah's sneak peek starts with the producers outside of her house, talking about how Farrah is annoyed by them being there. (Is anyone else having deja vu right now?) The producers have been yelled at by Farrah, so one of them is sent in to talk to her (and try to convince her to act like a halfway decent person for a few minutes). Farrah feels bad that she was rejected and ostracized by the show's producers.
(If you are in Canada or outside North America, click here to watch Farrah's promo!)
All the 'Teen Mom' fun (and recaps) start March 23! The Ashley can hardly wait!