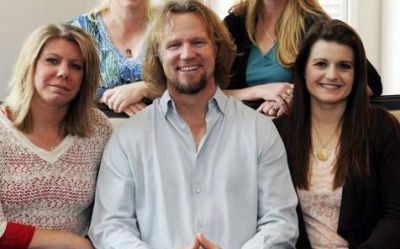 Sister Wives star Kody Brown has four wives, one of which is now legally his ex-wife!
Starcasm broke the news over the weekend that Brown family patriarch Kody actually divorced his first (and only legal) wife, Meri Brown, last year! The couple, who wed in 1990, filed jointly and finalized their divorce on September 25, 2014. While that news is quite shocking– it gets better.
A few months later, Kody legally married his fourth (and youngest) wife, Robyn Brown. The pair tied the knot on December 11, 2014 in Clark County, Nevada!
The family never mentioned the marriage changes on their social media accounts (or on the show), and it appears that they were hoping that no one would notice. After the news broke, though, the Brown family issued a statement to People confirming that the marriage/divorce news is true.
"We have chosen to legally restructure our family," the statement read. "We made this decision together as a family. We are grateful to our family, friends and fans for all their love and support."
The magazine quotes "a source" (likely the Brown family themselves) that states that the "family structure has not changed" and that Kody remains "spiritually" married to Meri, as well as his other two wives, Janelle and Christine. From her Twitter account, it appears that Meri and Kody have continued life as if nothing has happened. They recently celebrated Meri's birthday together and she continues to live in the family's Vegas cul de sac compound.
Starcasm and multiple other outlets have reported that the Browns likely made the spousal swap in order to allow Robyn's three kids from a previous marriage to have access to Kody's insurance and other benefits. (While The Ashley can not confirm, it does appear that Kody works for himself now, so she's not exactly sure where these benefits are coming from.) As Kody's legal wife, Robyn now has power of attorney (and can make decisions on Kody's behalf should something happen to him), becomes his next of kin, and is eligible for any benefits afforded to a legal spouse. The rest of the wives do not have these things.
Anyway, what we really want to know is what Meri thinks of all this! Also, how do Janelle and Christine– the two wives that were "skipped over"–feel? Although, outside the family statement, none of the Browns have spoken publicly about the change, Meri did retweet a very telling message just one day before her divorce from Kody became final.
"Happiness is in the heart, not in the circumstances," she posted on Twitter on September 24. On September 19 (during the divorce proceedings), Meri posted, "What appears to be the end may really be a new beginning."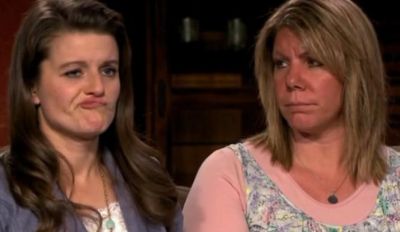 Fans of the show know that Meri has always prided herself on being "the first wife" and most likely took the news hard. Radar Online reached out to Kody's mother, Genielle Brown, to get more dirt about the split, but Kody's mom wouldn't talk.
"I've been sworn to secrecy by my son," she told the site.
Mariah Brown, the college-aged daughter of Kody and Meri, is also keeping quiet. She has not posted anything about her parent's divorce or the drama surrounding it.
Meri's sister, however, did speak to Radar about the divorce.
"I don't know what the big deal is; I know [Meri] is happy with her husband," Elaine Barber said. "I don't really know what to say. I don't know what it means [for the show]."
The Ashley has reached out to TLC multiple times to find out whether or not the divorce/marriage will be addressed in upcoming episodes, but has not yet heard back from the network. She will update this story when there is new information.
To see Kody and Meri's divorce documents, as well as Robyn and Kody's marriage license, click here!
(Photos: TLC)