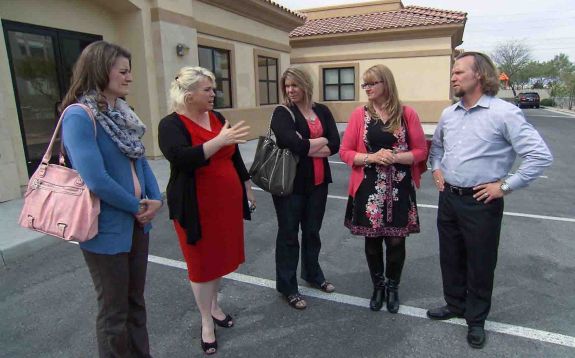 By Holly Rasmussen
On last night's episode of Sister Wives, we finally got a hint about some of the changes that have been happening in the Brown family.
News broke last week that Brown family patriarch Kody Brown divorced his first (and previously only legal) wife Meri in September and married his youngest wife, Robyn, in December. (Kody also has two other wives— Janelle and Christine.)
Fans of the show were left wondering why Kody and Meri, who have been married for two decades, divorced, and why Janelle and Christine were skipped over in order for Kody to marry Robyn. It appears that the Browns may be giving us some of those answers.
In the preview for next week's episode, we see Meri dramatically saying she just got back from a lawyer's office. But according to social media, she and Kody are still very much in love. On January 17, Meri tweeted a picture of the two of them out celebrating her birthday. So what the heck is going on?
After the show last night, Meri tweeted, "So many of you are asking, be sure to watch next week as we begin telling our real story regarding current news in our family."
(Did you notice she said, "As we begin telling?"  That means they'll be milking this for as many episodes as they can!)
Kody, who was sporting a creepy ponytail last night, of course had to put his two cents in on the matter and confirmed this will be a story line for several weeks.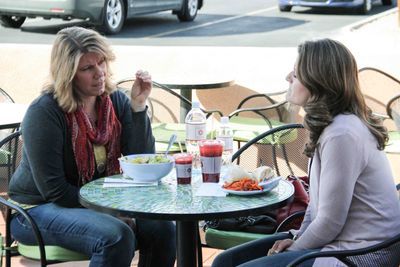 "Careful! Many may judge what they don't understand. If you want to know, watch 'Sister Wives' and most will be revealed over the next three weeks," he tweeted.
The Browns have yet to discuss Kody's divorce and second marriage, except to issue a statement after the big news broke last week. They confirmed that there had been some "legally restructuring" of their family.
Fans have been speculating that Kody may have divorced Meri and married Robyn because of Robyn's three children from a previous marriage. Robyn expressed concern in last night's episode that if something happened to her, her kids would go back to their biological father. Robyn divorced her first husband, David Jessop, amongst rumors of abuse.
While this may make legal sense (if it is, indeed, the reason for the wife swap), but it certainly couldn't have made the other wives very happy. After all, the majority of last night's episode showed Christine talking about how jealous she was of Robyn when Robyn first joined the family. This surely won't help with her jealousy issues!
(Photos: TLC)