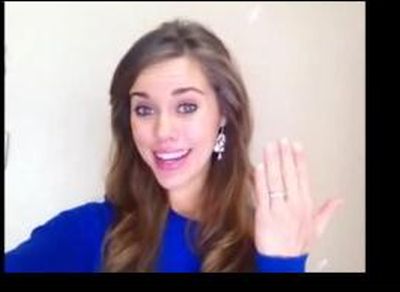 By Holly Rasmussen
Jessa Duggar may be coming to a town near you! The 22-year-old 19 Kids & Counting star will be appearing at the Southern Women's Show, which will be traveling around the Southern United States in March and April. (Of course, The Roundup will have a reporter at one of the shows, ready to record any crazy things Jessa might say!)
The show will feature Jessa as a speaker. According to their website, Jessa (the newest MARRIED Duggar, as she emphasizes in the promo video for the tour) will be there to inform all the Southern women in attendance on what it is like to grow up in the Duggar family.
She will also be discussing her courtship and marriage to 19-year-old Ben Seewald. Other likely topics will include her plans for children and her sister, Jill's, pregnancy.
And, of course, she will be giving relationship advice. (Lucky us!) After her speech, she will be answering questions and signing autographs. Let's hope she gets thrown some tough questions!
You can get the complete list of shows on their website. If you can't make it all the way to the South to see Jessa give marriage advice, you can catch Ma and Pa Duggar (as well as Josiah Duggar) in Westerville, Ohio, on February 21.
Click here to watch Jessa's (sort of weird) promo video for the tour.