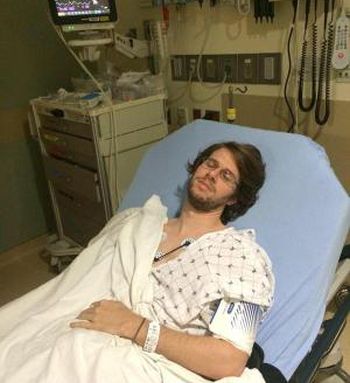 Was it a heart attack or a drug overdose that landed The Challenge star John "JJ" Jacobs in the hospital this week? Or was it all a big joke?
John, who is probably best known for appearing on the first season of Are You The One? retweeted a tweet posted by his current(?) girlfriend, Katie, asking for prayers for John. Katie stated that John had suffered a major heart attack on Monday, and posted a photo of him lying in the ER hooked up to machines.
After the photo was posted, several of John's 'Challenge' cast mates tweeted their support to him. Even his "Battle of the Exes" teammate, Simone Kelly, sent her well wishes.
"No matter what we go through…I still love u. Hope u get well soon," she wrote to John.
Later that day, John tweeted that he was released from the hospital, which indicated that he hadn't actually suffered a major heart attack like he had previously stated. (He would never have been released from the hospital that day if he had a major heart attack!)
His tweet also indicated that his hospitalization may have been drug-related.
"Released from the hospital back at my apartment taking it easy," John wrote. "Thanks so much to everyone who cared about me  no more drugs for me!!"
John appears to be doing fine now, and has resumed his regular tweeting. The tweet containing the photo of him in the hospital has since been deleted. He has not given any further indication as to why he was in the hospital, or how "drugs" played a part in it.
The show's fans are understandably sensitive this season, given that two members of the current season's cast have died since filming ended. Diem Brown passed away from cancer in November, and Ryan Knight died a few weeks later after a night of partying.
The Ashley has reached out to John to get more information but has not yet heard back from him.
(Photo: Twitter)