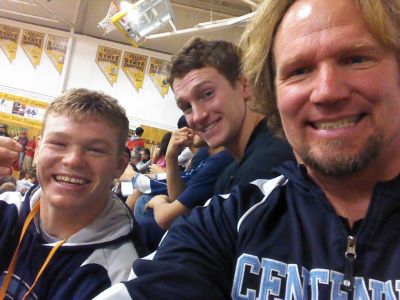 Does Sister Wives star Kody Brown favor his sons over his daughters? That's what was suggested by anthropologist students that were studying the Brown family on last week's episode of the show. Although fans of the show have been speculating this on message boards and social media for years, last week's episode marked the first time that the issue of Kody preferring to spend time with his sons over his daughters has actually been addressed on the show.
The students also noticed that he spends the most time with his youngest son, Solomon, who is mothered by Kody's youngest (and now legal) wife, Robyn.
Of course, when the students brought this fact up to Robyn, she got very defensive and denied that Kody favored Solomon and ignored most of the "middle" kids. The denials have continued on Twitter since last Sunday.
"[Kody] spends time with all of his kids," Robyn tweeted. "I think it is a constant struggle 4 him to be there 4 his kids as much as he would like."
Kody, who is the father of seven boys and 10 girls from his four wives, admitted on the episode that he sometimes feels more comfortable around his sons because he can roughhouse with them.
Some kids, such as Solomon and Janelle's oldest son Logan get a  lot of camera time, but others, such as Janelle's 11-year-old daughter Savannah or Christine's 14-year-old daughter Gwendlyn, are rarely discussed and only seen in the background. (Seriously, The Ashley couldn't pick those kids out of a lineup for any amount of money.) Kody is rarely, if ever, seen interacting with them or many of the other "middle" kids.
Janelle did her best to convince the show's fans that Kody does at least try to spend time with his daughters.
"Many fathers struggle with how to connect with their daughters. I will say @realkodybrown keeps trying. I love the dad he is to my kids," she tweeted. "[He] is an involved dad! He adjusts the interaction 2 meet the needs of each child. The fact he know those differences is evidence."
A quick glance at Kody's Twitter feed shows posts about certain kids, particularly Hunter, his 18-year-old son with Janelle. (Hunter is a state champion wrestler, just like Kody was, so there's obviously a connection there.) Other kids are never mentioned. (Of course this doesn't mean anything; it is simply an observation.)
Kody even joked that he favors a few of his sons over the rest of the clan.
"What do you mean 'all my time with Solomon?'" Kody tweeted in response to the students' observations. "I spend lots of time with [Hunter]!"
Oddly, none of Kody's children commented on this subject via their social media accounts.
We 'Sister Wives' fans will have to wait another week to watch the two-hour season finale, as the show is not on this week due to the Oscars. To tide you over until the new episode airs next Sunday, click here to read a recap of last week's episode!
(Photo: Twitter)