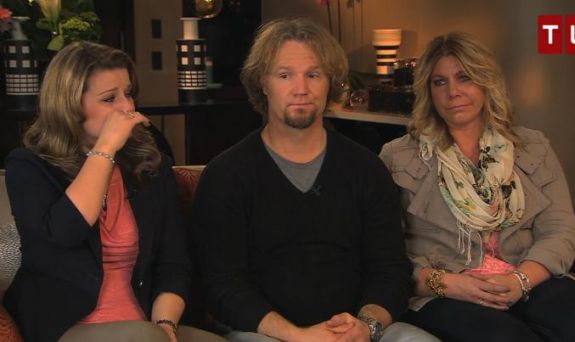 Sister Wives fans are counting down the hours until Sunday's dramatic season finale, where we will learn the full story behind Meri Brown's divorce from Kody, her husband of 20+ years. (After the divorce, Kody went on to marry his newest –and youngest–wife, Robyn.) The last episode gave us a hint of what's to come, but in a just-released sneak peek of the "Sister Wives Tell-All Special," we get to see the Browns sob it out as they explain to Tamron Hall what the heck happened.
At the start of the preview, everyone is crying (except for Kody, who is probably not even sure where he is, and second wife Janelle, who checked out of this hot mess years ago). Meri explains why she decided to divorce Kody and give her status as "legal wife" to Robyn.
"I don't want to sound like I'm patting myself on the back, that's not what it was about," she says. "It's about the kids. It's about being in the family."
Of course, her decision to let Robyn become the legal wife hasn't come without doubt.
"I'm not going to lie; I have that mixed emotion going on," Meri said. "It's an end of something that we had, in a way, for 24 ½ years. But at the same time, I know it's not because I have eternity with him. I have eternity with the family. I know it's not the end."
A blubbery Robyn claims that it was hard for her as well.
"We were watching them sign those divorce papers and I've signed divorce papers before," she wails, somehow managing to once again make everything about her. "It was because I didn't want to be married anymore. And I'm watching these two and I know they love each other…it was painful to watch."
Janelle (who, by the way, has also been divorced but didn't bring that up in the discussion), reflects on how hard it was for Meri.
"This is probably one of the most painful things Meri could have ever done," she said. "And I don't want anyone to underestimate that."
Watch the full clip below: