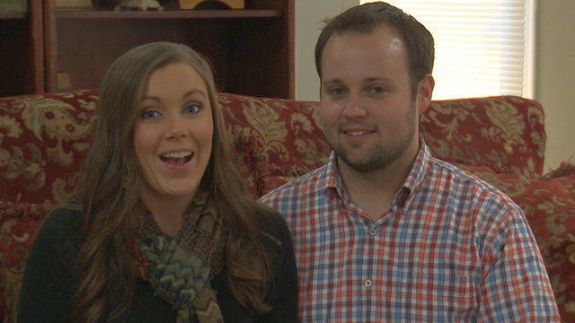 By Holly Rasmussen
The Duggar family is adding another girl to its ranks! The oldest of Jim Bob and Michelle Duggar's 19 children, son Josh and his wife, Anna, announced last year that they are expecting their fourth child. Today, the couple announced via People magazine that this new bundle of joy will be a girl!
This evens out their family's boy/girl ratio. The young couple are already parents to 5-year-old Mackynzie, 3-year-old Michael and 1-year-old Marcus. They said they will probably go with another M name for this new baby. Of course they will.
Anna, whose home birth with Marcus was filmed for 19 Kids and Counting, says she wants to have a natural birth this time as well. While she won't have (also pregnant) sister-in-law Jill there to attend to this birth, she said she's found a nice midwifery group where they live in Washington, D.C. (Does that mean poor Jana Duggar is off the hook to help for this birth? She's already going to get stuck helping Jill squat out her first kid.)
Fans want to know: Will Josh and Anna have 19 kids like Josh's parents? Probably not, according to Josh. While the couple said they're open to having "as many children as God will give them," Josh said he doesn't think it will be 19.
"I've done the math, and there is no way we can have 20 kids that I can figure," Josh says.
Uhhh…why not? I'm not exactly sure that homeschool education is working out for you right now, Joshy. Biology works in mysterious ways.
Speaking of weird things Josh said in this interview, when asked about his sister Jessa being named "Sexiest Duggar Alive" by People, Josh said, "I had an issue with that. Everyone knows who holds the title of 'sexiest Duggar alive' and that's me."
Gross.
Anna is, of course, joyous to be expecting her fourth child at the young age of 26, but admitted that it will be harder to have a baby this time because they're not near their family. Don't worry, I'm sure Jim Bob will drive a bus full of Duggars up for the birth.
While the couple plans to have a lot of children, they don't seem to want to adopt, unlike Jessa and Ben, who have said that they are dying to get their hands on "lots of kids" that they didn't create biologically.
"It's not something we are planning right now," Josh said.
Anna added that while having lots of children is stressful, "all good things require work." (Just not work outside the home if you're a woman, apparently.)
Well, congrats Josh and Anna. Here's to hoping you name her 'Merica.