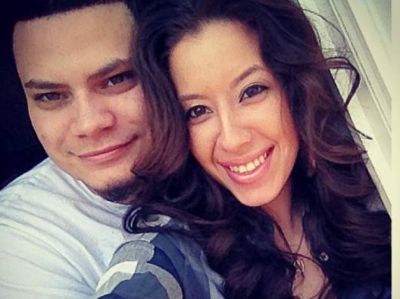 Radar Online just broke the news that Teen Mom 2 star Jo Rivera's longtime girlfriend Vee Torres is about seven or eight weeks pregnant with the spawn of Jo. The Ashley can confirm that Jo, who is also the father of Kail Lowry's five-year-old son Isaac, did, indeed, get Vee pregnant. (The couple is apparently telling friends that the pregnancy was planned.)
The site claims that Vee was eager to spread her baby joy via social networking, but that Jo asked her not to, since he had not even told all of his friends and family. (The MTV film crew and production staff do know, however.)
Jo and Vee have had an on-and-off relationship over the past few years. She is currently living with him in New Jersey, and things in their relationship appear to be better than ever, based on their social media postings. Last month, Jo described Vee as, "a diamond in the ruff" to a fan on Twitter. (That boy is really missing his calling– he should be writing cards for Hallmark with line like that.)
He is certainly not the first star from 'Teen Mom 2' to have a second baby. His ex, Kail had another baby, as did co-stars Jenelle Evans and Leah Calvert. Adam Lind, father of Chelsea Houska's daughter, is also a parent to two children.
It does not appear that "marriage" will come before the "baby carriage" for these two. Last year, Vee stated that she and Jo were in "no rush" to get married.
UPDATE: Vee has confirmed the story on her Twitter account.
"But on another note BLESSED for this journey in my life! This feeling is so indescribable. It outweighs any negativity anyone tries to throw at me… I am truly humbled and blessed! I am going to be a momma," she wrote.
(Photo: Instagram)